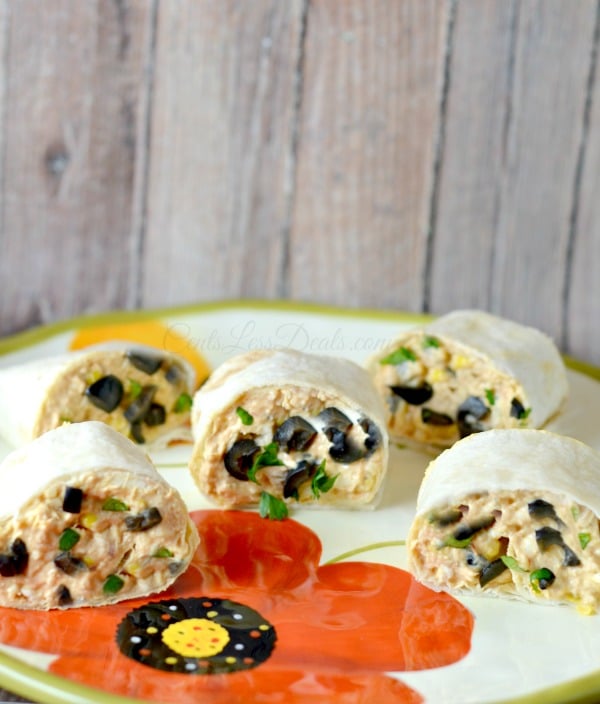 Like this recipe? "Pin it" to save it by clicking the photo above!! 
Be sure to follow CentsLessDeals on Pinterest and check out our other great recipes while you're here! 
These Fiesta Chicken Pinwheels are super yummy!! The best part is, they're made with the most amazing and easy chicken recipe I've ever made! You can find the chicken recipe here. It's just a super easy, 3 ingredient, CrockPot recipe!! And then you can make these delicious creatures! However, I have to warn you, these don't last long at any party so be sure to eat a few as you make them, you know….just to make sure they're safe for the masses 😉
INGREDIENTS: 
1 1/2 cups of shredded chicken (I really love to use this super easy crockpot recipe for chicken tacos and then use the leftovers to make these pinwheels)
1 (8 oz) package of cream cheese, room temperature and cubed
1/2 cup sour cream
1/2 cup of corn
1/2 cup of canned black beans, rinsed
1/2 cup of shredded cheddar cheese (or you can use pepper jack if you like a little more spice)
1/4 cup diced olives
1 package of small flour tortillas
toothpicks (optional)
DIRECTIONS:
Place cream cheese into a large mixing bowl and stir until creamy.
Once cream cheese is creamy, stir in sour cream.
Add in remaining ingredients (except tortillas and toothpicks of course) and stir.
Once you have your chicken mixture, spread 1/4 cup of mixture onto a tortilla and roll up.
Repeat until you run out of mixture or tortillas (if you have any mixture left, bake it up like a dip, it's delicious!!)
Refrigerate tortilla rolls for one hour before cutting into slices (it makes less of a mess and makes it easier on you)
Keep cold until serving.
Enjoy!