Overnight Breakfast Enchiladas recipe
Overnight Breakfast Enchiladas recipe
If you're looking for a great breakfast idea to feed a crowd, perhaps a make ahead holiday breakfast recipe, or just wanting to try something new, this Overnight Breakfast Enchiladas Recipe is perfect! It's easy to make, can be made ahead, and it's a fun twist on your regular breakfast casseroles! I thought I would give it a try when I had family coming in from out of state for the holidays. I don't know about you but when I have company for the holidays, I try to make as many meals ahead of time as possible. That way I can just focus on my family or guests and not worry about spending all my time in the kitchen prepping and cooking. This recipe was perfect for the occasion!
These Overnight Breakfast Enchiladas are very filling, and are perfect for a quick and easy breakfast. The best part is, it requires such little time to prep and throw together that you'll want to make this for breakfast very frequently! It was a huge hit with my family so I can't wait for you to share it with yours!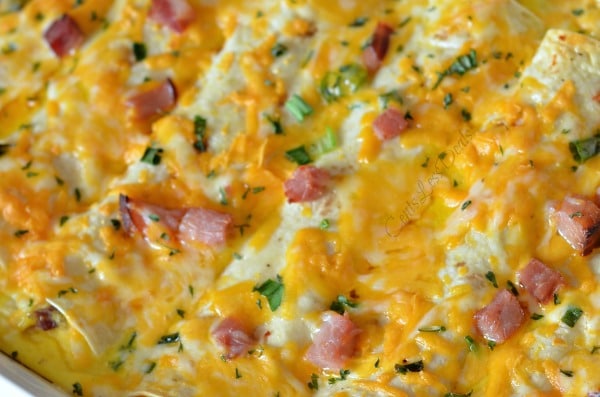 Look at that cheesy deliciousness!! Don't you want to just shovel that into your face? Or is it just me? 😉
Okay, enough drooling, it's time we get this party started and let you learn how to make them for yourself!  Aside from the cooking ingredients, you'll need to make sure you have a 9×13 baking dish and some non stick cooking spray. Now let's get cooking up this Overnight Breakfast Enchiladas recipe!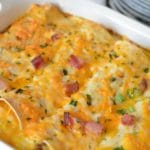 Overnight Breakfast Enchiladas recipe
Ingredients
6

eggs

8

flour tortillas

medium size, not the large burrito size

1 1/2

cups

half & half

you can use whole milk if it's all you have on hand

2

cups

ham

cubed

3

cups

of shredded cheddar

divided into two bowls, each containing 1.5 cups

1/4

cup

chopped green onion

1/4

cup

diced onion

1

tsp

garlic salt
Instructions
Spray a 9x13 baking dish with non stick cooking spray and set aside.

In a large bowl, combine 1.5 cups of shredded cheddar, 2 cups of diced ham, 1/4 cup chopped green onion, 1/4 cup diced onion, and garlic salt.

After those ingredients are mixed well, set aside 1/4 cup for toppings and set the bowl aside.

In another medium sized mixing bowl, whisk together 6 eggs and 1.5 cups of half & half.

Once egg mixture is mixed well, set aside.

Starting with one tortilla, add 1/4 - 1/3 cup of the ham mixture into the center and roll up.

Place seam side down onto the baking dish.

Repeat until all tortillas are used.

Pour egg mixture over the top and then top with remaining ham mixture that was set aside.

Cover with foil, and store in fridge until ready to bake.

Bake at 350 degrees for 30-40 minutes until eggs are set.

Remove the foil, top with remaining 1.5 cups of shredded cheese, and bake until cheese is melted.

These are best served with sour cream and salsa.

Enjoy!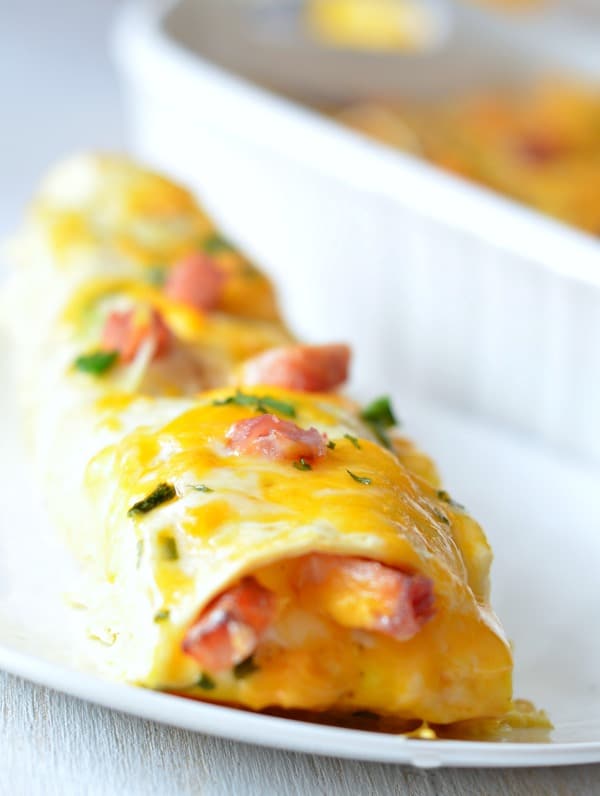 Now, is your mouth watering yet? Gosh, these were so delicious that I feel like I better whip up another batch and have some right away!
You can easily make this recipe your own just but customizing the ingredients for the filling. You could use chorizo if you want a more authentic mexican flavor, you could use breakfast sausage, I just had some ham leftover from the holidays and so it worked perfectly for me! You could also incorporate all of your favorite diced veggies!! Have some fun with it!