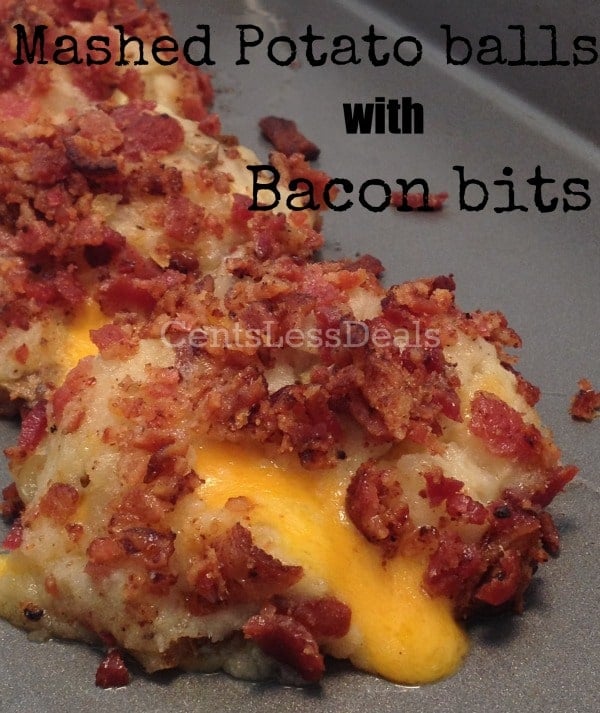 © CentsLess Meals
Loaded Mashed Potato Balls with Bacon Bits
Pin it to your APPETIZER BOARD to save it for later! 
Be sure to follow CentsLessMeals on Pinterest for more great recipes!
These delicious and crunchy mashed potato balls can be an appetizer or snack, and they're easy (and fun!) to make. Two key ingredients make these mashed potato balls truly delightful. They're made with cheese centers that literally begin to ooze out at the end of their baking time. They're also made without bread crumbs; each of the mashed potato balls is actually covered in real bacon bits, which give them not just a great crunchiness, but an amazing flavor worth high-fiving!
While you can be a little creative by adding some ingredients, it's best to use cold mashed potatoes because they'll form a ball more easily and they'll keep a firmer texture when they're baked. Using cold potatoes makes these appetizers the perfect "leftover" treat, so you may want to keep this recipe specially marked for any time that you want to use leftover mashed potatoes — or maybe even make extra mashed potatoes for dinner one night just to have leftovers!
A few words about the other ingredients. Since these mashed potato balls are made with cheese centers, you may want to experiment with the type of cheese you use. I like to use any cheese with a little "bite" because the potatoes are mild. I also prefer the texture of a firm cheese that oozes just enough for me in this recipe. Avoid overcooking the bacon because a portion will be mixed into the mashed potato balls, which will also be dredged with bacon bits on the outside before baking.
You can also experiment with adding some ingredients — just don't get carried away making the individual mashed potato balls too stuffed! You could add ¼ cup of jalapeños, ¼ cup of olives (green or black) or ⅓ to ½ cup of drained canned corn.
So easy and fun to make, you might want to invite the kids to help! Here are a few additional tips:
Read through the entire recipe and have the 5 ingredients ready to assemble
Your cheese cubes should be about ½" each so that they'll fit easily into a 1" potato ball
No need to grease your baking sheet!
Enjoy these while hot, and let the "yums!" begin!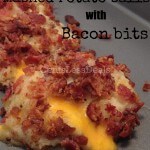 Loaded Mashed Potato Balls with Bacon Bits recipe
Ingredients
2

cups

cold mashed potatoes

1

egg

lightly beaten

4

oz

block cheddar cheese

cubed

1/4

cup

chopped green onions

1/2

lb

bacon cooked

crumbled, divided
Instructions
Mix mashed potatoes, green onion, and 1/4 cup of the bacon crumbles.

Shape mashed potatoes into 1 in. balls.

Put a cube of cheese into the potato ball and press potatoes around it until cheese is completely covered.

Roll into a ball.

Dip the ball into the eggs, then dredge in the bacon bits.

Place onto cookie sheet or baking dish.

Bake at 375 degrees for 15- 20 mins or until cheese is oozing out.
More Recipes You'll Love
Cheesy Ranch Potatoes with bacon