Merry Strawberry Pie recipe
This post may contain affiliate links. Please read my disclosure policy.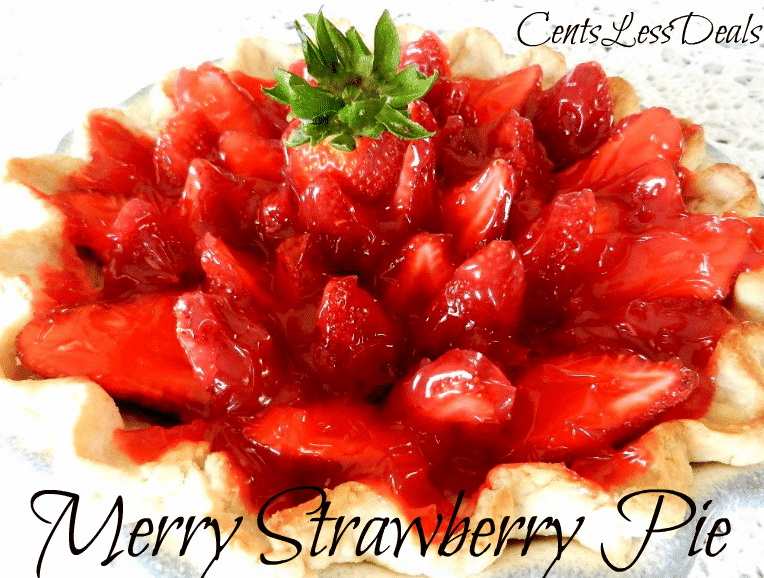 This is such a yummy summer treat!! Hurry and use the "pin it" button above because trust me, you will not want to lose this recipe!!
Be sure to follow CentsLessDeals on Pinterest and check out our other great recipes while you're here!
Merry Strawberry Pie
Ingredients:
1 Baked Pie Shell- (If you are pressed for time, Get an Oreo crust shell at the store.)
2 pints of strawberries, whole or cut your way
3 tbsp cornstarch
3 tbsp strawberry/banana jello
1 cup water
Directions:
The first step is to arrange strawberries in the pie shell however you would like.  Now it's time to make the glaze!
Glaze directions: 
Combine these ingredients in Saucepan:
3 heaping Tbsps. cornstarch
3 Tbsps. strawberry/banana jello
1 Cup Sugar
1 Cup Water.
Bring to a boil and simmer until thickened. Let cool until room temp. Pour over the berries!
Refrigerate until it is set up, if you can stand not to just dig in right now.
To serve, put a generous dollop of whipped cream on top and enjoy.
This pie just makes you smile when you look at it. It is easy and incredibly edibly DELICIOUS!!