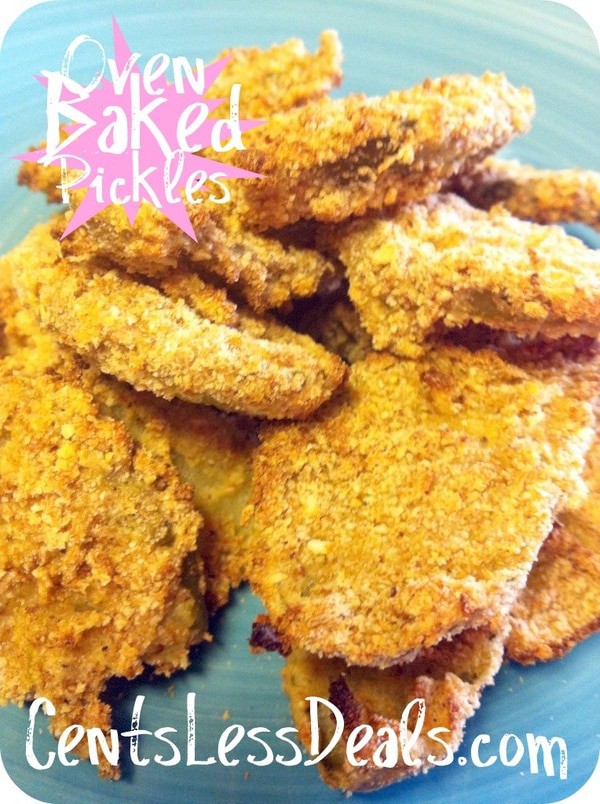 Oven Baked Pickles
Like this recipe? "Pin it" to save it by clicking the photo above!! 
Be sure to follow CentsLessDeals on Pinterest and check out our other great recipes while you're here! 
Fried Pickles are a favorite recipe for a lot of people. I personally just tried them for the first time a few years ago and now I am addicted! Here is a recipe that helps save you calories because they are baked, not fried. I hope you enjoy it!
Ingredients:
1 jar pickle slices
2 eggs
1/3 cup flour
1 Tbsp Worcestershire sauce
1 tsp hot sauce
1 tsp garlic powder
1 tsp pepper
1 1/2 cups bread crumbs
Ranch dressing for dipping

How to whip this up:
Turn oven broiler on high.
In a medium bowl, whisk together eggs and flour.
Add Worcestershire sauce, hot sauce, garlic powder, and pepper.
Mix well.
Place bread crumbs in a shallow dish.
Dunk each pickle slice into the egg mixture.
Place coated pickles on a rack set above a baking sheet and sprayed with non-stick cooking spray.
Place pan in the middle rack of the oven.
Broil for about 3 minutes on each side.
Serve with Ranch dressing.