Green Smoothie Recipe
This post may contain affiliate links. Please read my disclosure policy.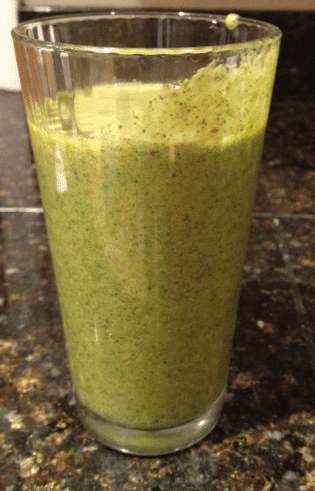 I have to admit, the first time I saw a picture of one of these green smoothies I wasn't too sure!  However, my good friend Ashley told me she made it and it was quite tasty so I thought I would give it a try. Although honestly I felt she was setting me up so she could laugh at me. Now, I have to eat crow and admit, these are amazingly good!!
Here's how I made mine but there are so many variations that you can feel free to switch it up and make the recipe your own.  Besides, have you heard of how awesome these are for you? There are people saying these have helped them lose weight just by adding one to their diet per day, people are saying these make your skin look fantastic and others are saying after regularly drinking these they feel better than they ever have. What's not to love about that?!
Green Smoothie:
1/2 cup frozen  peaches
1/2 mango (you can use frozen, I tried it fresh for this and it was tasty)
1 banana
2 handfulls of spinach
1/2- 1 cup of water (you can use juice instead of you wish)
ice cubes (I didn't use them and wish I had)
Start with 1/2 a cup of water in the blender.  Add slowly as needed to get the texture you desire.  I ended up using almost 1 cup of water. I probably would have used less had I used ice. There isn't even a hint of green flavor in this. As I write this my hubby and my 8 year old daughter are happily enjoying a green smoothie 😉
*I added strawberries and I actually think it's the only thing I can taste besides a hint of banana. Experiment with what combination of fruits you like. I've heard pears, apples and even beets are great in these!!! Just make sure you have a banana in it with your choice of fruit and your 2 handfulls of greens. If you don't have any spinach I hear you get the same effect using Kale.