BBQ Chicken Macaroni Salad recipe
This post may contain affiliate links. Please read my disclosure policy.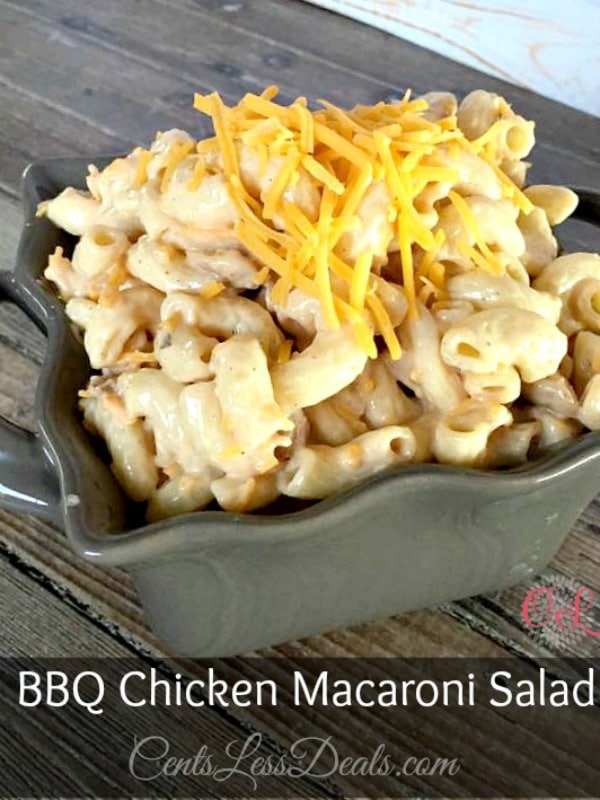 Like this recipe? "Pin it" to save it by clicking the photo above!! 
Be sure to follow CentsLessDeals on Pinterest and check out our other great recipes while you're here! 
Join the CentsLess Meals Facebook group and come share your favorite recipes with us!
BBQ Chicken Macaroni Salad
I kind of feel the need to tell you how this recipe was born. I had called a friend of mine so we could spend some time complaining about how we don't have enough time in the day to clean etc. and I decided to cook instead of vacuum. I feel like that was a good choice! I asked her what kind of macaroni salad should I make and we came up with this! I was really only making this for the fam because I dislike bbq sauce. The only kind I can bring myself to eat is that stuff you dip the onion rings in at Red Robin. You know that stuff right? It's like the angels sing as you eat it! It's ah-mazing! Well, I am happy to say that this kind of tastes like that sauce, and it's delish!! Seriously! I kept sneaking bites all night and oh em gee….it's even better the next day! You've got to try this! It's a perfect side dish for when you have a barbecue at your house or really…just make this, for anything.  After you try it you'll see 😉
INGREDIENTS: 
8 oz macaroni noodles, cooked and drained
1 cup mayonnaise
1 cup bbq sauce (I used Kraft honey bbq)
1  1/2 cups shredded, cooked chicken
1/2 cup diced onion
1 cup shredded cheddar cheese
2 tbsp seasoning salt
DIRECTIONS:
Mix together the mayo, bbq sauce, and seasoning salt.
Once mixed well add in remaining ingredients.
Mix well.
Refrigerate for  one hour before serving
Enjoy!