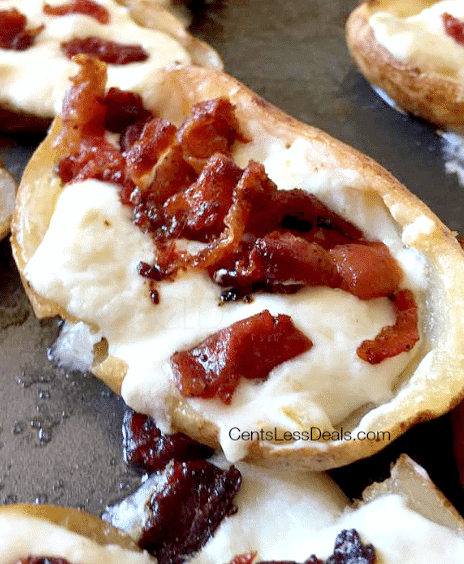 Like this recipe? "Pin it" to save it by clicking the photo above!! 
Be sure to follow CentsLessDeals on Pinterest and check out our other great recipes while you're here! 
Have you ever found a food you love so much that you just want to eat it all the time? I know how that feels. Lately I'm obsessed with jalapenos. I'll put them in or on anything! My mouth loves it anyway, my stomach is begging me to lay off the spicy foods but I can't help it! So I've had to make room in our budget for lots of Tums because I just can't quit the jalapenos.
After running out of ideas for foods to throw jalapenos in, I had this magical idea! POTATOES! Okay, that's kind of a lie, we went to a restaurant that served something similar and I had to run home and make a better version of it. Seriously, these are amazing!! If you like jalapeno poppers, you are going to LOVE these!! Now, I like mine very, very spicy so I used 3 of the 4 oz cans of diced jalapenos. Don't judge me….it was amazing!! I toned down the recipe for the rest of you who aren't fans of breathing fire 😉 I hope you enjoy it!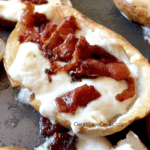 3-Cheese Jalapeno Popper Potato Skins recipe
Ingredients
6

medium potatoes

scrubbed

12

slices

of bacon

cooked and crumbled

8

oz

sour cream

8 oz packages of cream cheese

2, room temperature

1

cup

of shredded monterey jack cheese

1

cup

of shredded pepper jack cheese

4 oz can of diced jalapenos

1
Instructions
Preheat the oven to 425 degrees.

Make sure the potatoes have been sufficiently scrubbed, poke holes into the potatoes with a fork and put on a cookie sheet to bake for 45-60 minutes (until skin is crispy)

Once potatoes have cooked, set aside to cool.

Put the cream cheese in a large mixing bowl and mix until creamy.

Add sour cream and jalapenos, blend well.

Slowly add in shredded cheeses and mix well.

Once you've made the cheese mixture, set aside and cut potatoes in half.

Using a spoon, spoon out half of the potato, leaving a "boat".

Fill each potato with cheese mixture and top with crumbled bacon.

Bake at 425 degrees for 15 minutes or until cheese mixture is bubbly.

Serve and enjoy!