This shop has been compensated by Collective Bias, Inc. and its advertiser. All opinions are mine alone. #GladeForFall #CollectiveBias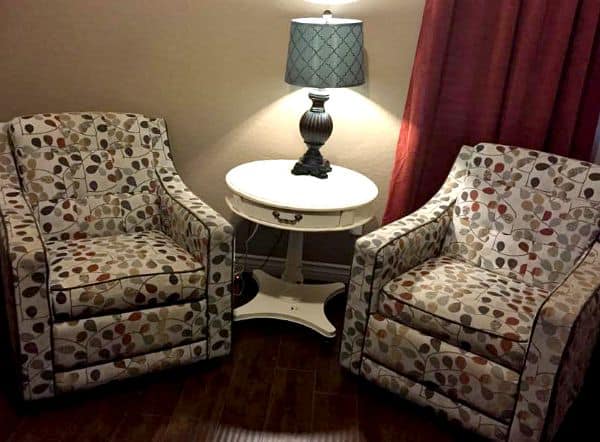 Have you ever wanted to decorate a room or an area of a room but just didn't know where to start? It can be intimidating but really, all you need are a few basics and then a couple things you love and then, voila! You have an amazing, beautiful space!! The picture above is a space in my home office. My office isn't only where I work, it's where I go to relax (and sometimes hide from the kids but shhhh!). What woman doesn't envision having her own room filled with pretty, breakable things where you don't have to even once say "don't touch" or rearrange things?! That is exactly what I am about to create!
You start by adding cozy things like some soft blankets and pillows: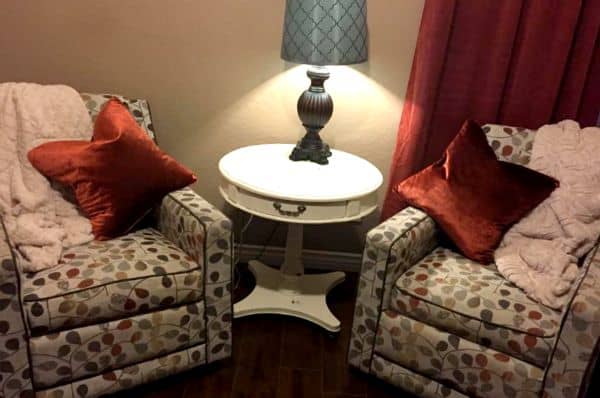 Isn't that a little better? Now your next step is, start going around the house and find a couple items that you just love, and add them to your space! I grabbed my wedding bouquet because the colors match my office perfectly, and put them in a vase, I must show you how beautiful it is! My bff Tonya made it for my wedding and it's one of my favorite and most cherished items!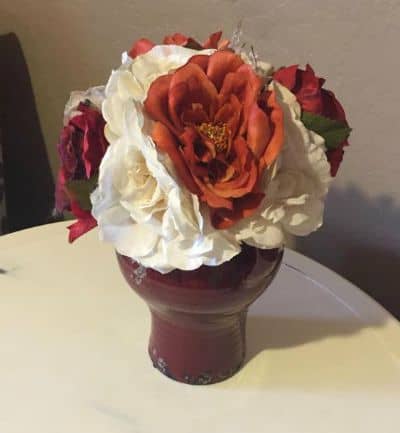 Isn't it so beautiful?! Fall colors are my favorite, and fall is one of my favorite seasons! Now that you have an item or two that you really love for your new space, it's time to do one of my favorite things….go shopping!!! Now is the time where you buy 2 or 3 different sized items that coordinate and of course, something that smells delicious and goes with the decor! I ran to my local Fry's store (it's a Kroger affiliate) because they sell all kinds of things aside from food! They have furniture, decorations, pillows, they have it all! In looking for something that smells amazing for the room check out what I found in the air freshener aisle Fall Collection jar candles!
Perfect colors and scents for my office!!! Besides, who doesn't love a good pumpkin scent?! I always do, regardless of the season! While out shopping I grabbed a couple Glade® candles, a picture frame, a new journal (because well…I wanted it), and a fun little cactus plant. I figured, if they can live in the desert, surely it's a plant I can't kill! Once I made all my purchases I headed home to put together a cozy little area!
The first thing I had to do was solve a little dilemma….do I choose the Glade® Hit The Road™ scent (which smells amazing, almost like fresh air mixed with leaves), or do I choose the Pumpkin Pit Stop™ scent? The Pumpkin Pit Stop™ scent was calling to me, it smells like it has notes of pumpkin, cinnamon, and some delicious spices! To me, it smells what I picture fall to look like.
Since I don't have as much blue in my office as I do orange, I went with Pumpkin Pit Stop™, it's one of my new favorite scents now!
Now that was settled, it was time to set everything up! The key is to arrange things in a way that are both functional and beautiful. Since I sit on one side of the table more than the other, I have a functional side, and a beautiful side.
Check out the final product: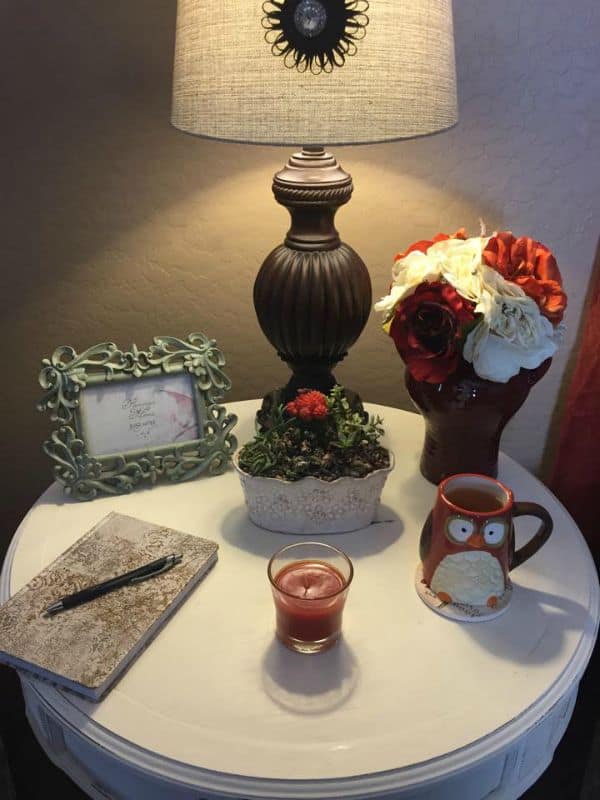 Isn't it gorgeous?! The Glade® Pumpkin Pit Stop™ candle was the PERFECT touch for my table! I love everything about this!! The finishing touch will be finding the perfect photo for that frame. Here's how the entire space looks after I was done: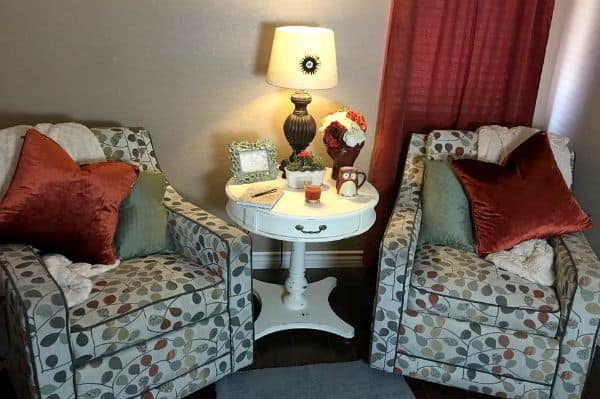 Isn't it amazing how just a few changes can make a room look and feel entirely different? If you love fall colors and scents as much as I do, now is the time to add to your decor! So many awesome new fall products have just been put on the shelves, like the Glade® Limited Edition Fall Collection candles I found!
How do you make your favorite space cozy and inviting? I would love to hear your feedback on what you've done to your favorite space in the house!