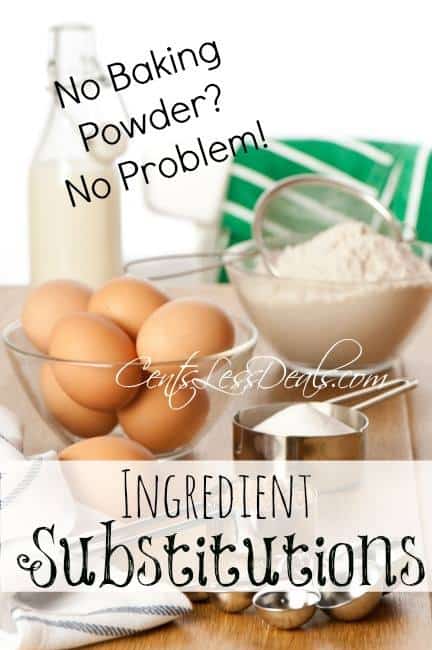 Cooking Substitutions
You keep a well stocked kitchen, filled with everything you'll need to cook Thanksgiving dinner, Christmas goose, or just packing lunches. But even the best prepared of us can forget something on occasion; here are some substitutes for common ingredients you may be missing in the middle of cooking!
Allspice: Replace your missing allspice with two parts cinnamon to one part ginger and one part cloves.
Baking mix: Baking mix, pancake mix, and biscuit mixes are pretty interchangeable. Exchange them at a one-to-one ratio.
Baking powder: Add two parts cream of tartar to one part baking soda. Voila!
Beer: Don't have any beer after last week's party? No problem, just use chicken broth instead!
Brown sugar: Did you know you can replace brown sugar with white sugar or confectioner's sugar with almost no difference? White sugar gets exchanged one-to-one, but confectioner's sugar is 1.25 cups to every 1 cup of packed brown sugar.
Butter: Exchange butter for vegetable oil or any other kind of cooking oil, in a recipe.
Cream of Tartar: Replace with double the amount of lemon juice or white vinegar.
Eggs: Out of eggs? Use ⅓ cup of applesauce or a half of a banana mashed up instead! Also makes egg recipes vegan!
Honey: Honey, white sugar mixed with water, and corn syrup are all interchangeable. You can even pour honey in your coffee for a delicious new type of sweetener!
Green onion: Shallots, chopped onion, and green onion are all also interchangeable, one-to-one!
Mayo: You can exchange mayonnaise for greek yogurt or sour cream. Greek yogurt in your pasta salads will make you rethink using mayo ever again!
Want to see more cooking substitutions?
https://allrecipes.com/howto/common-ingredient-substitutions/