Do you ever get in the mood to decorate or redecorate but you have limited funds? I love decorating but I don't love the price tag that goes along with it. I decided it was time to redecorate my fireplace mantle but I couldn't afford to do much. That's when I came up with this really great idea to make my own creation!! Nothing feels better than looking around and seeing something beautiful that you made with your own two hands!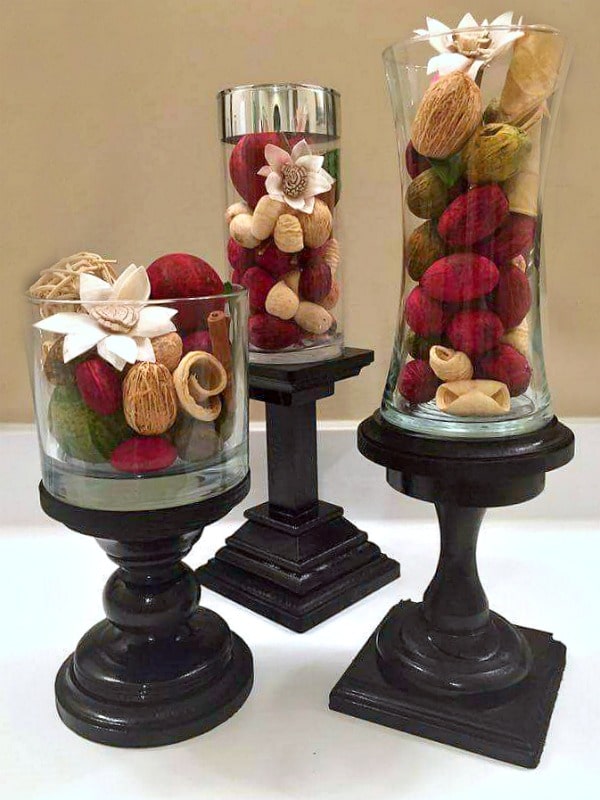 This is a sponsored post written by me on behalf of The Gorilla Glue Company.
I wanted something for my mantle that I could display the pretty potpourri I found on sale, so I knew I needed glass, but I really love the look of candlesticks. That is when this idea was born! I went to my local craft supply store and I purchased 3 unfinished candle sticks, 6 different shapes of wooden blocks (square and circles), 3 glass vases that would fit on top of the wood blocks, and some Gorilla Super glue.
The Gorilla Super Glue works so quickly and well! I have to tell you, I have heard rave reviews about this glue and I have always wondered if they were real or fabricated. I am here to tell you that this glue is amazing!! You will not want to use any other type of glue once you use Gorilla Super Glue!! It's very versatile in its uses, and the bottle I used has both a nozzle for very detailed gluing, and also a brush! Which makes it very easy to use for your projects!
Speaking of projects, let's go through the steps on how to make this one! Now, for your sake I made a few different types, changing up the different candle sticks, wood blocks, and shapes of glass, just to show you how easy and versatile this project is. It shows you that the possibilities are endless! The best part is, if you can find a 50% off sale on wood items at your local craft supply store, you'll be able to make these for a steal!!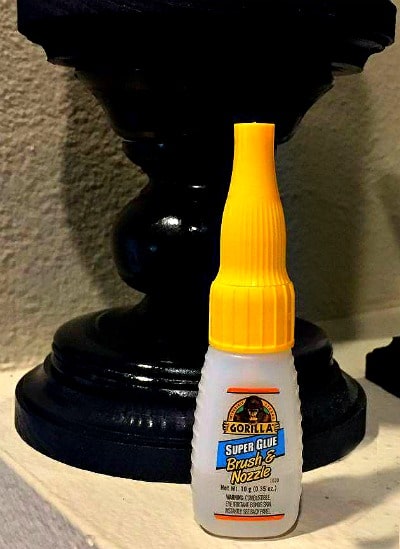 Here is what you'll need for this project:
Gorilla Super Glue (I highly recommend the brush & nozzle bottle)
Wooden candle sticks
Wood blocks to use as accents for both top and bottom of the candle sticks
Glass vases to place on top of the candle sticks
Spray paint in your color of choice (chalk paint would also work really well for this project)
You'll start by choosing unfinished wood candle sticks, and then wood blocks to add both under and on top of the candlesticks. Your pieces will look like this: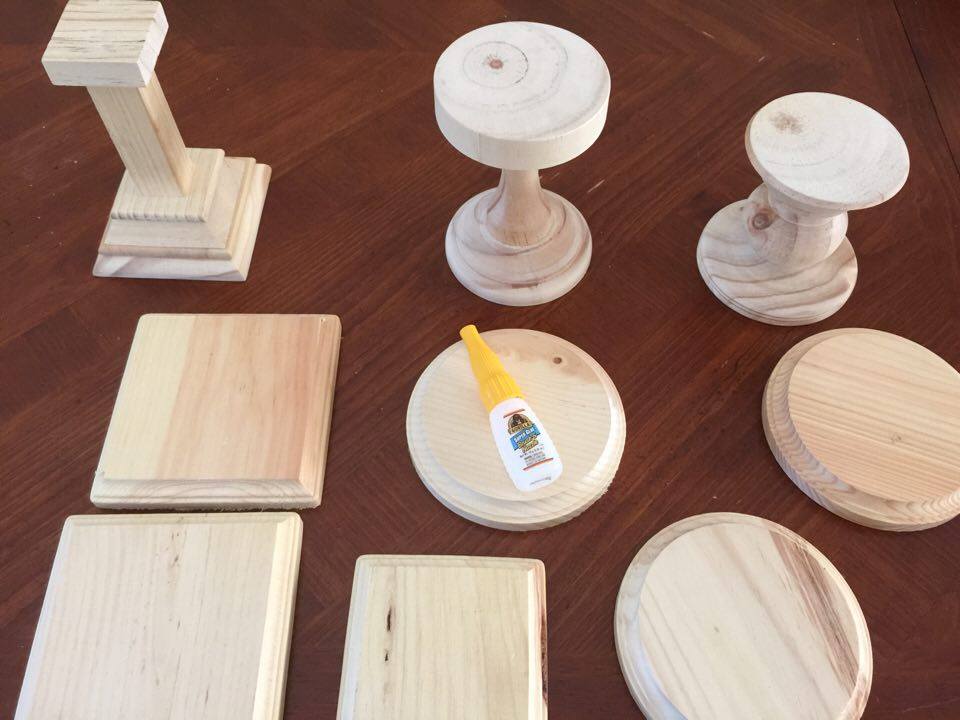 Once you have chosen the design of your candle sticks, then choose the vase you feel looks best with your design choice.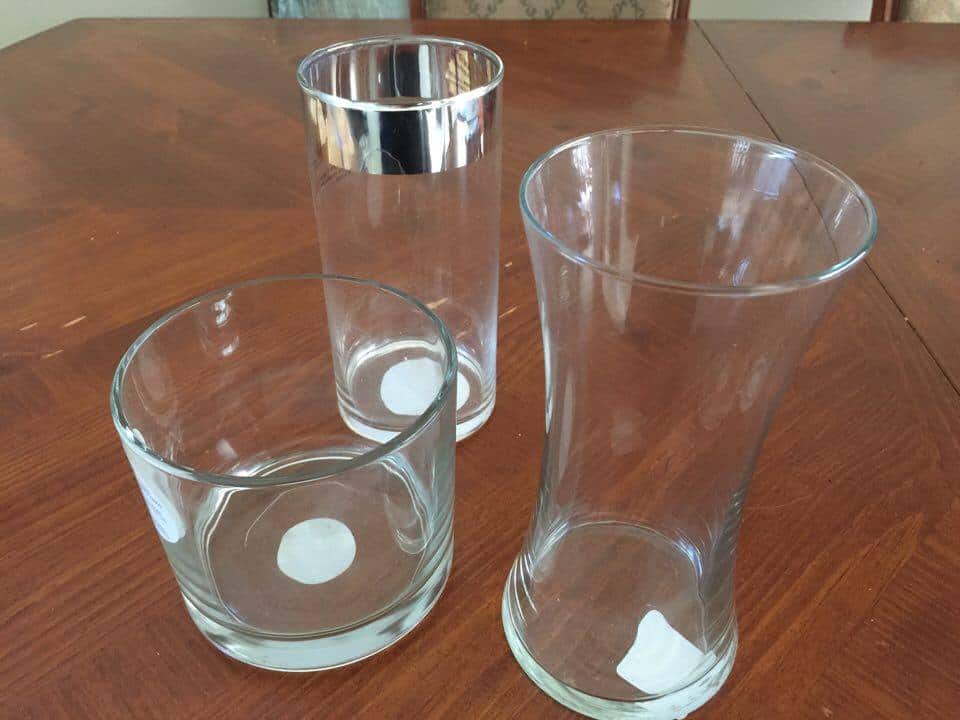 You'll start by using the Gorilla Super Glue to adhere the wooden blocks to both the top and bottom of the candle sticks. Gorilla Super Glue dries very quickly so after I glued my pieces together, I went to set up my painting area.
What you'll do next is take your candle sticks to a well ventilated area and spray paint the candle sticks. You could also use chalk paint for this, and distress them, or even use a paintbrush and regular paint. Get creative!
After the candlesticks are completely dry, it's time to glue the glass onto the candle sticks. (if you are wanting to distress the paint, you would do that before adding the glass) This is where I was so glad the Gorilla Super Glue had a brush!! That made it so much easier to get the glue where I needed it be!!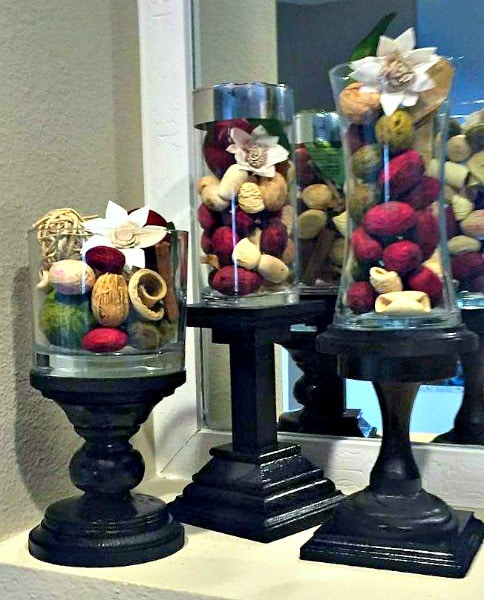 When the glue is completely dry, fill the glass with whatever strikes your fancy!! You could use coffee beans, candy, sand, whatever fits your décor style! Do you know what would help you make a lot of awesome DIY projects?