Handy uses for Vaseline!
This post may contain affiliate links. Please read my disclosure policy.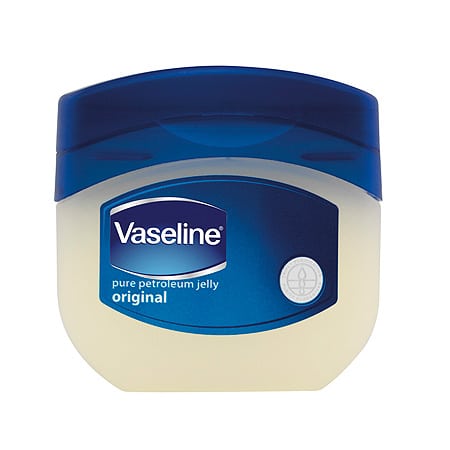 Uses for Vaseline
Have a jar of Vaseline laying around that you never use? Don't throw it out! Here are some unusual uses for Vaseline you may have never thought of!
Keep battery terminals clean: Protect your battery terminals from getting gross and preventing your car from starting. Just rub a little bit of petroleum jelly over the terminal, under the plastic protectors. It will protect the terminal without causing harm to the battery or the plastic covers!
Easy-open nail polish: If your nail polish gets a little crusty and hard to open in between uses, try rubbing a little Vaseline along the threads to keep the nail polish from crusting your bottles closed.
Lubricate candle holders: Keep the wax from sticking to your pretty candle holders by rubbing the insides with petroleum jelly. The jelly won't burn away, and will make the wax slide right out. No more scraping candle wax away!
Heal chapped lips: Is your chapstick not cutting it? Winter cold and wind can dry up your lips quickly, so fight back with a little Vaseline on your lips. It will help to seal in the moisture and keep them kissably soft all year around! This also works for dry elbows and cuticles!
Make a scrub: Mix sea salt or sugar with your petroleum jelly and make a scrub for your whole body. It will moisturize, rid you of dead skin, and make every inch of your skin feel brand new.
Aftershave: Do your legs and underarms get irritated from shaving? Use Vaseline as an aftershave lotion to help fight the bumps and rashes that can show up after shaving.
Hair color container: Prevent at-home hair colors from dying your skin. Coat your neck, ears and face with Vaseline to keep the dye in your hair, where it is supposed to be!
Sources:
http://www.wackyuses.com/vaseline.html
http://www.stylelist.com/view/19-unusual-uses-vaseline/
http://www.thegloss.com/2007/10/18/beauty/50-beautiful-things-you-can-do-with-vaseline/