Handy uses for Coffee Filters
This post may contain affiliate links. Please read my disclosure policy.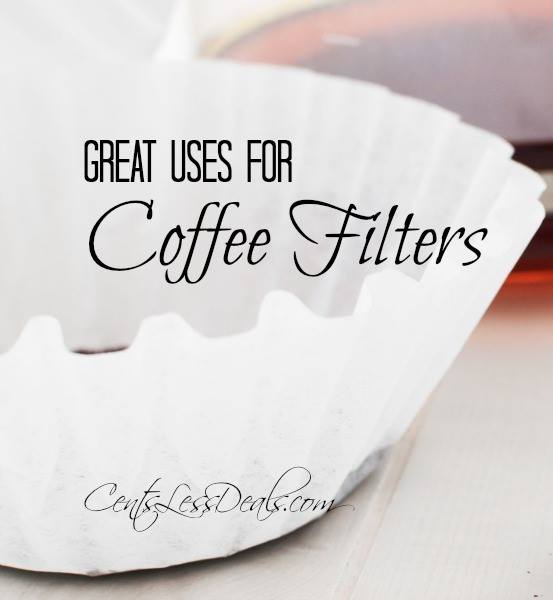 Uses for Coffee Filters
If you are an avid coffee drinker, or even if your are not, you probably have a boat-load of coffee filters laying around. They do help make a good cup of joe, but they have lots of other uses too. They're not just for the kitchen anymore!

MY LATEST VIDEOS
Cover it up: Covering your food when you put it in the microwave can prevent big messes. So try covering it with a coffee filter! Instead of washing a second plate or wasting paper towels, you can just cover it with a coffee filter.
Strain stock: Making chicken broth or vegetable soup and need the stock to be clear? Filter it through a coffee filter to get the small, solid pieces left behind.
Tea Bag: You can make your own tea bags out of loose tea leaves, a coffee filter and some string. You can also brew tea through your coffee maker if you want to make a bunch!
Save your cast iron: When storing your cast iron pan or pot, put a coffee filter on the inside. It will prevent the pan from rusting by soaking up any moisture that may be around.
Make an air freshener: Tie off a coffee filter filled with baking soda. You can store these odor-fighting pouches in your shoes, your fridge, or even your car!
Clean your windows: Wipe down the windows with a coffee filter instead of a rag or paper towel; the filters won't leave lint or streaks behind. Also great for mirrors!
Disposable bowls: If you are serving handfuls of popcorn or candies at movie night or at a party, use coffee filters as disposable bowls for your snacks. It means less clean up for you at the end of the night!
Save your soil: Place a coffee filter in the bottom of your flower pots before adding soil. It will allow for the water to drain without losing any soil from the pot.
Sources:
https://www.ebay.com/gds/10-Clever-Uses-for-Coffee-Filters-/10000000177630175/g.html
https://www.thisoldhouse.com/toh/photos/0,,20241198,00.html
https://www.realsimple.com/home-organizing/new-uses-for-old-things/coffee-filters-00000000009276/index.html