This shop has been compensated by Collective Bias, Inc. and its advertiser. All opinions are mine alone.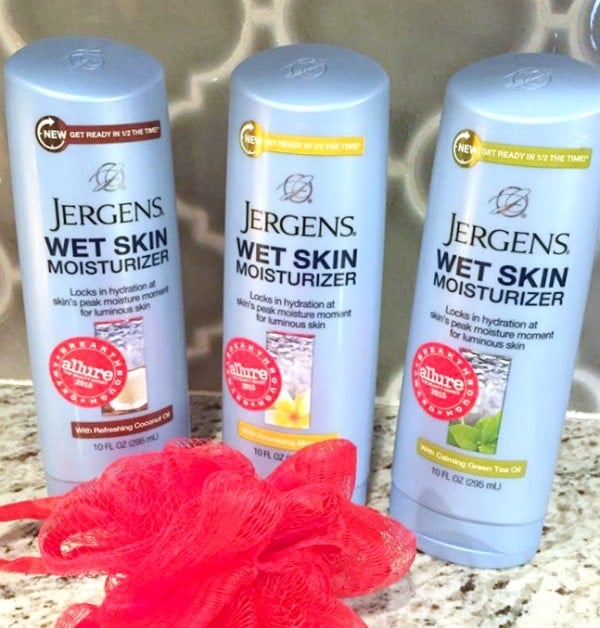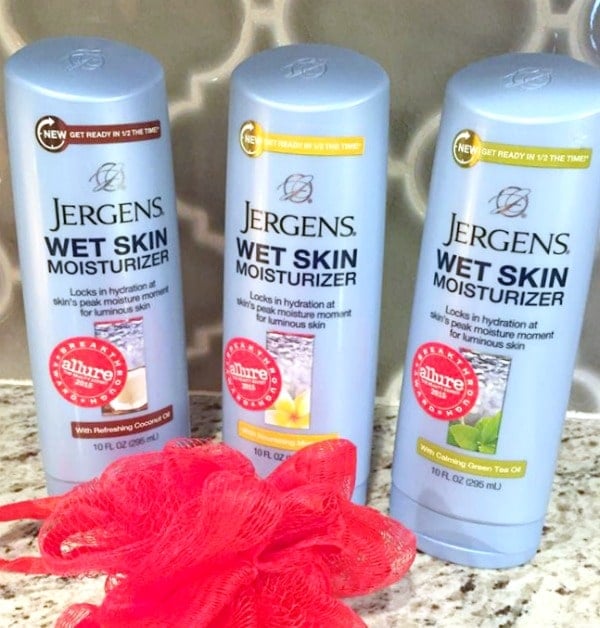 Winter is upon us! You know what that means, hello dry skin! I live in Arizona so I am constantly battling severely dry skin. Last week I was asking my mom what type of lotion she uses because her skin is always so soft, even despite the "dry heat" here in AZ. She said her secret was to apply lotion when she gets out of the shower to wet skin, before drying off. My mom says that is when your skin will absorb the lotion the best. I looked into this and it turns out my mom is right! Don't tell her I said that 😉
After talking to my mom, I ran to Walmart and found Jergens® Wet Skin lotion in the lotions aisle. They had 3 different types and I couldn't choose so I bought them all!! I am so glad I did too because each of them smell amazing!! I have so far used this 3 times and let me tell you, there was a HUGE difference in my skin just after the first use!! My arms used to constantly feel itchy because they were so dry, and I am amazed at the changes!! Plus, it smells so good that I am constantly sniffing my arm 😉
This is something that you must try! I don't normally order my friends and family to try a product, but I cannot stop raving about this one! It's so easy to use, it's something that takes just a minute or two and makes such an amazing difference, it's a game changer for me!!
To use Jergens® Wet Skin lotion:
simply apply to wet skin
dry as normal
THAT'S IT!! So easy to do and it completely changes the feel of your skin! No more itchy, dry skin this winter!! It's hard to pick just one of the scents but if you do need to pick just one, I really recommend the coconut! It smells amazing and it goes perfectly with my sugar scrub recipe 😉
In my opinion, the best way to take care of your skin and keep it looking and feeling dry is not only hydrating it, but exfoliating well before applying lotion, this way your skin is not only hydrated but quite soft. I personally love making my own sugar scrub at home to save money and I wanted to share my "recipe" with you! If you use this sugar scrub and then use Jergens® Wet Skin lotion and you'll be amazed at the difference in your skin!!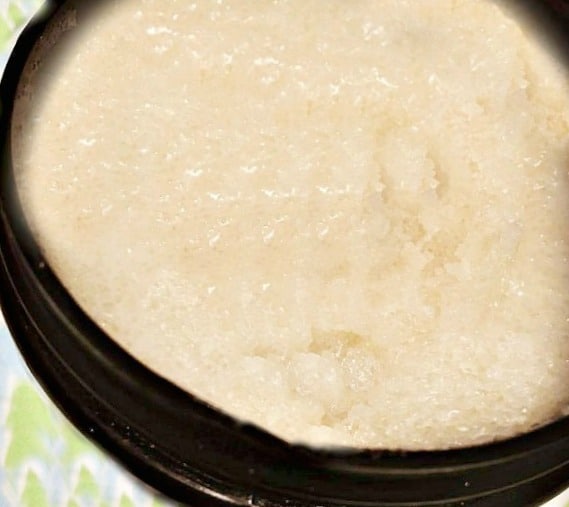 You can whip up a batch of this with ingredients you probably already have in your pantry and because it's made with household ingredients you don't have to worry about the kids getting into it!
WINTER SKIN HYDRATION IDEAS PLUS DIY SUGAR SCRUB
SUPPLIES:
1 cup coconut oil
2 cups sugar (just your regular type of table sugar works perfectly!)
3 tbsp vanilla extract
1 small mason jar or container with lid
INSTRUCTIONS
Place coconut oil in a medium sized, microwave safe bowl.
Microwave coconut oil for 30-40 seconds, then remove and stir.
Repeat until coconut oil is melted.
Combine sugar and coconut oil, stir well.
Well completely combined, stir in vanilla extract.
Store in an airtight container until ready to use.
I would love to hear what your favorite tips are to keep your skin hydrated during the rough winter months!