Cute Halloween gift idea!
This post may contain affiliate links. Please read my disclosure policy.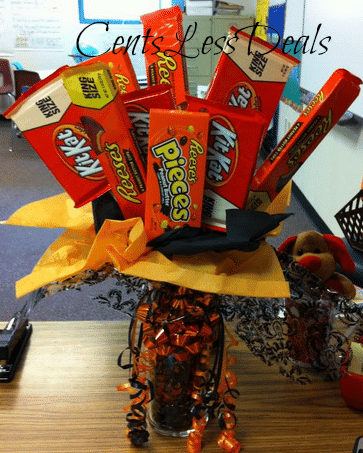 Have you ever thought of making a Halloween gift before? I came across this candy bouquet I made my hubby for Valentine's day. I know, black and orange are strange for a day of love but they're his favorite colors 😉
When you use this combination of candy, the colors are perfect for Halloween! Would even make a fun centerpiece too!!
Here's what you'll need to make this:

MY LATEST VIDEOS
1 package of dowels from Hobby Lobby ($2.49 at my store)
8 – 10 candy bars, depends on if you're using king size or regular
clear packing tape
glass vase ($3.99 for me at Hobby Lobby)
cellophane (I prefer it with a design but you could also buy clear)
small candies for weight at the bottom of the vase
I started by using the clear packing tape to attach the candy bars to the dowels.
Then I stuffed one sheet of cellophane down to the bottom of the vase and filled the vase 3/4 of the way full with the small candies.
After that I just stuffed in a little tissue paper, stuffed in the candy on the sticks in and voila! You have a candy bouquet!!
The hubs loved it and so did his work wifeys 😉  It is a thoughtful gift that doesn't take long at all to make!!!
If you like this, feel free to use the "pin it" button and try and create one of your own!!!