15 Uses for Coconut Oil
This post may contain affiliate links. Please read my disclosure policy.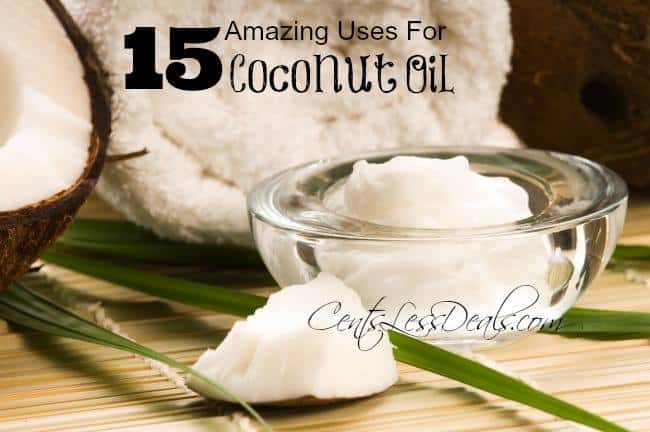 Coconut oil is AMAZING!! If you haven't been using it, you've been missing out!!
Coconut oil is a yummy, dairy-free substitute for butter, and makes some of the best french fries in the world. But it is good for so much more than cooking!
 Don't know where to buy coconut oil? It's super easy! Have coconut oil delivered to your door with Amazon! It's a great price too!

MY LATEST VIDEOS
1. Body Lotion: Coconut oil is a natural oil that will enhance the oil of your skin without chemicals.
2. Leave-in Conditioner: Melt a little in the microwave and rub it into your hair. Wash it out the next day for the shiniest hair ever!
3. Goodbye Stretch Marks: Using coconut oil during pregnancy will help prevent stretch marks in the future.
4. Natural sunscreen: Use it to prevent cooking in the summer sun.
5. For Feet: Helps prevent and remove toenail fungus and athlete's foot.
6. Insect Bites: Coconut oil will soothe the skin after an insect bite. No more itch!
7. Massage Oil: For the best smelling massage you've ever had.
8. Good for Wood: Try this as a wood polish and you'll never go back!
9. Pearly Whites: Brushing your teeth with coconut oil will help to remove some of the yellow from your smile.
10. Chewing Gum Remover: No more haircuts after a piece of gum gets stuck in your hair!
11. Prevent Acne: Rubbing coconut oil on your skin will help prevent breakouts by adding natural oils to your skin and cleaning, without harsh chemicals.
12. Remove Makeup: Clean and soft as baby's skin!
13. Lip Balm: Spread it on your lips before going to the beach or skiing, to prevent wind, sun, or cold damage to your lips.
14. Soak Your Toes: Coconut oil is great for your cuticles, so soak your piggies in or your hands and feel like you just got a mani-pedi!
15. Revitalize: Mix coconut oil with sugar or salt for a body scrub from heaven.
Sources:
https://wellnessmama.com/5734/101-uses-for-coconut-oil/
https://www.coconutresearchcenter.org/hwnl_9-4.htm
https://www.wellandgoodnyc.com/2013/07/09/14-beauty-uses-for-coconut-oil/#14-beauty-uses-for-coconut-oil-7