Zucchini Bread
This post may contain affiliate links. Please read my disclosure policy.
Zucchini Bread is a moist and delicious quick bread that makes the perfect afternoon snack for your family! Grated zucchini, traditional quick bread ingredients and pumpkin pie spice come together to create a moist, delicious and easy Zucchini Bread!
Add vegetables to bread? Sound crazy? Maybe, but the addition of zucchini is the secret to keeping this quick bread so incredibly moist! And the addition of pumpkin pie spice takes this zucchini bread recipe to a whole new level of flavor! Its just so darn moist and perfectly spicy, you may not want to share it!
Autumn is the perfect time to enjoy making recipes from all those zucchini you harvested! Whether it is savory side dishes like Easy Parmesan Zucchini or something a little more sweet like this Zucchini Bread, zucchini is such a versatile vegetable! It will mimic or compliment the other flavours in your recipe so you really don't know that there is even zucchini in it! Because of this, it is the perfect way to hide a healthy vegetable into any dish. So we should really call this recipe healthy zucchini bread! But shhh! Don't tell your kids!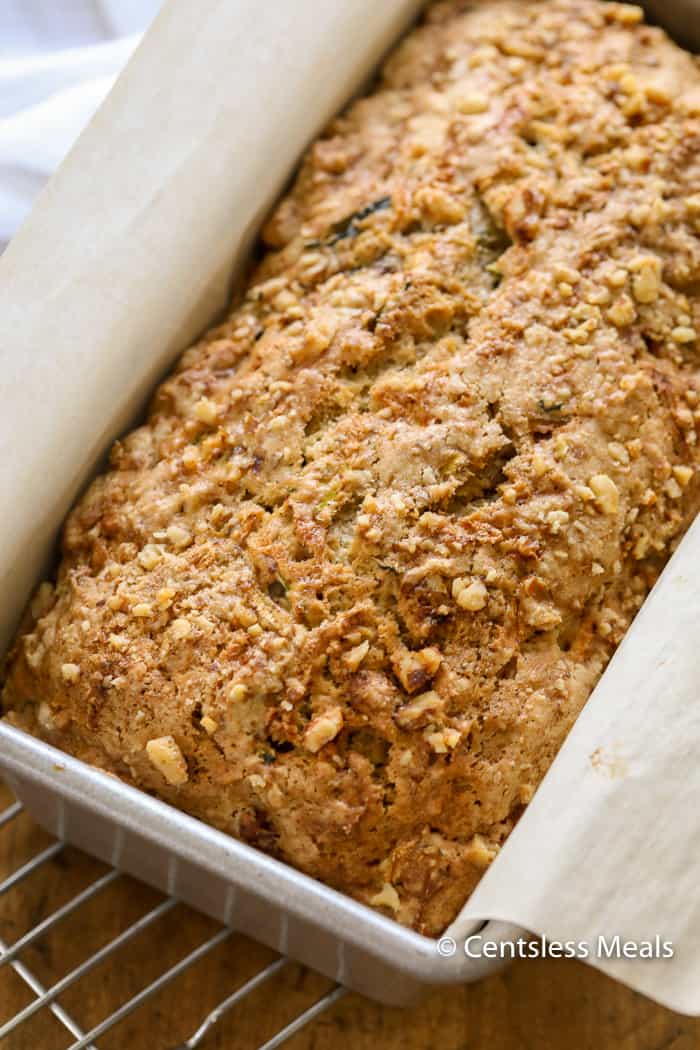 Zucchini Bread
©CentsLessMeals

MY LATEST VIDEOS
Pin it to your BREADS BOARD to save it for later! 
Be sure to follow CentsLessMeals on Pinterest for more great meal ideas!
As sneaky as you try to be, the incredibly moist texture of your bread will be a dead give away that your recipe has zucchini in it! Zucchini contains a lot of moisture which, when cooked, is released into the bread making it so perfectly moist! Try adding it to your other favorite recipes like Carrot Cake Cupcakes!
When you add alternatives like zucchini, or even apple sauce or yogurt, into existing recipes, you will need to modify the amount of liquid to accommodate for the moisture in the zucchini. I have found that if your recipe calls for 1/2 cup of oil, I use about 3/4 cup of zucchini. This may take a bit of trial by error to get the exact substitution ratio that works for you, but believe me it is worth it! What a great way to make baking a bit more healthy for your family!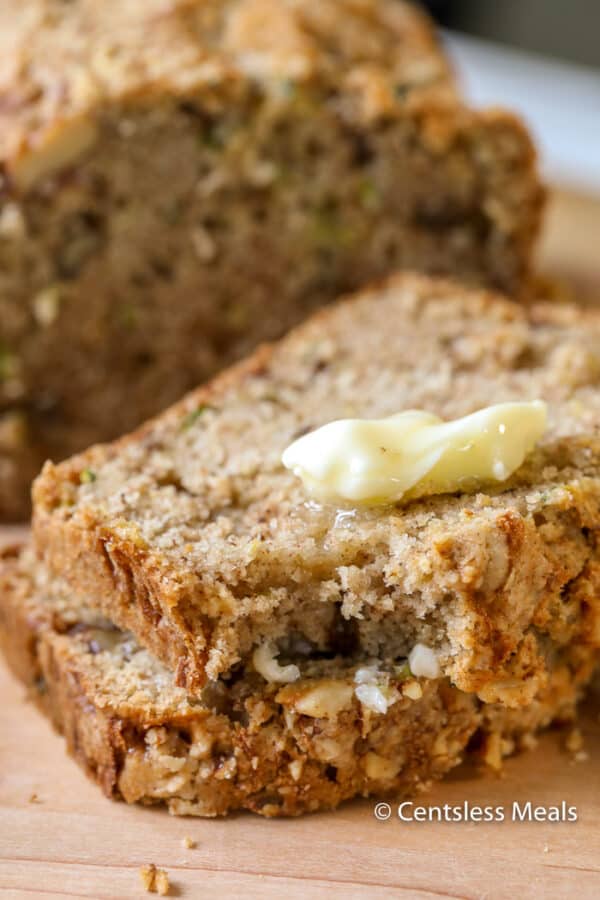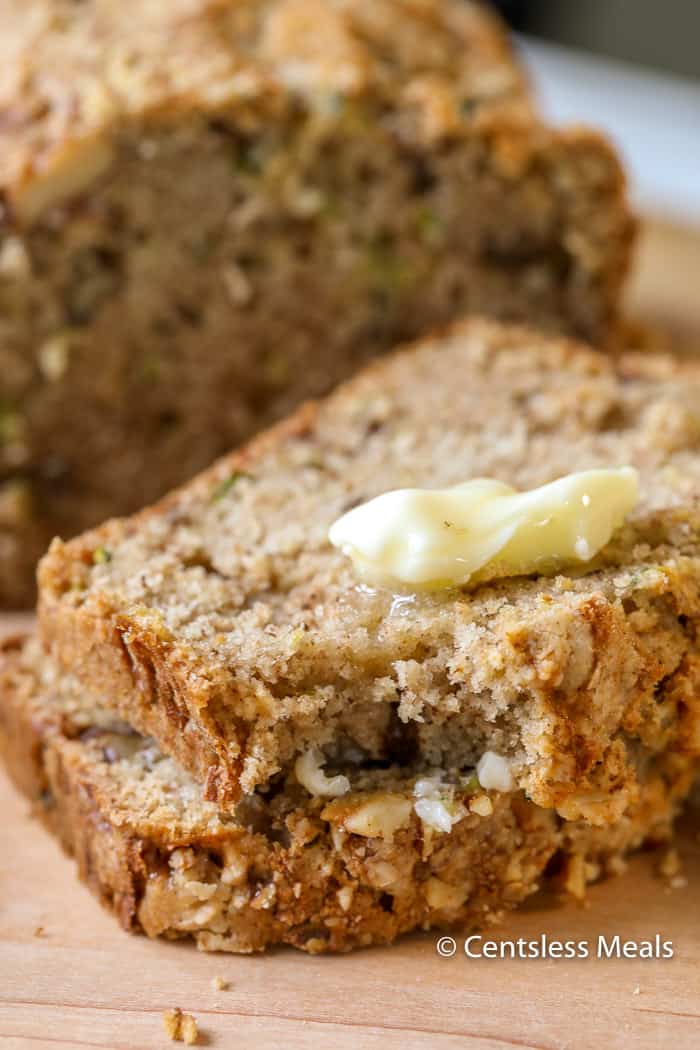 How to Grate Zucchini for Bread
I like to use the larger sized grate for grating. It is faster and I find the size works perfect for my recipes.
You do not have to peel your zucchini before grating, but you most definitely can if you want. Peeling off the green outer skin does help to hide those delicious bits of zucchini in your recipe, if you are trying to be super sneaky about adding it in!
If your zucchini is quite wet, you can squeeze it using a strainer or with some paper towel. You don't want it to be too dry, but not sopping wet either!
How to Make Zucchini Bread
Making zucchini bread is so easy!
Grate zucchini and set aside. (If using frozen grated zucchini, drain and squeeze out any excess liquid)
Line a loaf pan with parchment paper. This makes removal of the loaf super easy once it cools!
Combine all dry ingredients. Cream together eggs, butter and sugar.
Add the dry mixture and all remaining ingredients to the creamed mixture.
Stir just to combine (don't over mix) and bake!
So easy!

Can you Freeze Zucchini Bread?

Yes! Zucchini Bread freezes wonderfully! Be sure to seal it in an airtight container or zippered plastic bag. It will last in your freezer for 3-4 months – if it doesn't get devoured before then! When all the baking mess is already out, I like to double my zucchini bread recipe. My family and I can enjoy one loaf now and I pop the other into the freezer to enjoy later. It is perfect when company pops for coffee or to take along to a potluck or meeting!

This is the best zucchini bread recipe you will find. And it's super easy to make so you will be happy making it again, and again…!