Everyone will love these Kitchen Sink Cookies. They are easy to make and can be made with ingredients you have in your pantry!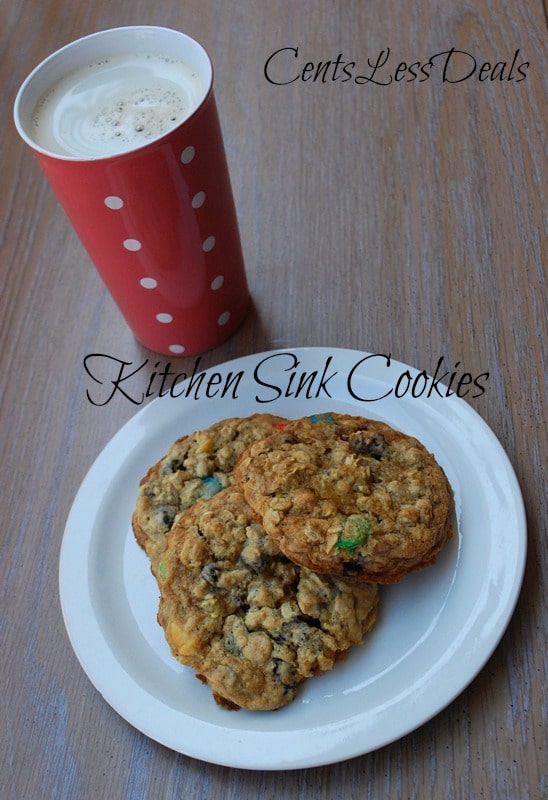 Rate Recipe
Kitchen Sink Cookies recipe
Pin Recipe
Print Recipe
Ingredients
½

cup

peanut butter

either smooth or chunky will work

½

cup

butter or margarine

2

cups

white or unrefined cane sugar

1

tablespoon

molasses

1

teaspoon

vanilla extract

2

eggs

2

cups

old-fashioned rolled oats

2

cups

all-purpose or whole wheat flour

1

teaspoon

baking soda

1

teaspoon

baking powder

1

teaspoon

salt

1

teaspoon

ground cinnamon

3

tablespoons

toasted wheat germ
Optional Mix-Ins:
2

cups

total of any of the following:

Dried berries of any sort

such as cranberries, blueberries, or cherries

Diced dried fruit such as pineapple

mango, or papaya, raisins, or dates

Chocolate or peanut butter M&Ms

any kind of baking chip such as peanut butter or white chocolate, toffee bits

Chopped nuts of any sort- cashews

peanuts, walnuts, almonds and pumpkin seeds are all great
Instructions
Spray or grease your cookie sheet or sheets, and preheat your oven to 350 degrees.

With a mixer or by hand with a spoon, cream together all of the wet ingredients except for the eggs. When the texture is soft and creamy, stir in the eggs one by one, combining completely.

Separately, in a large bowl, blend together all of the dry ingredients, except for the mix-ins, until there are no large clumps.

Add the wet ingredients to the dry ingredients, mix gently but completely with a large spoon, until everything is moist and no spots of white powder remain. Drop on your mix-ins, stir gently to combine.

Using a large spoon or ice cream scoop, drop your cookie dough in golf-ball sized portions on your cookie sheets, leaving about 3 inches between cookies, as they will spread. I can fit 6 large cookies on each of my cookie sheets at a time.

Bake in the oven for about 8 minutes. For soft, chewy cookies, remove them when the edges of each cookie is golden brown and the middle is still gooey. It will look like the cookie isn't completely done in the center, but as they sit they'll finish cooking and collapse to create a dense, chewy, moist texture. Allow them to sit on the cookie sheet for for about 3 minutes. Don't leave them longer than 5 minutes, or they'll stick!

For crispy cookies, leave them in the oven for about 10 minutes total, until the entire cookie is golden brown and the middle looks done. Crispy cookies can be removed from the pan immediately.

When the chewy cookies have rested or crispy cookies are done, remove them from the cookie sheet with a spatula and lay them on a brown paper shopping bag (cut it open and lay flat for a larger working space), which helps absorb any grease. Wiping the edge of your spatula clean between batches will make it easier to slide it under the soft cookies without breaking them.