This post has been sponsored by Amopé Pedi Perfect™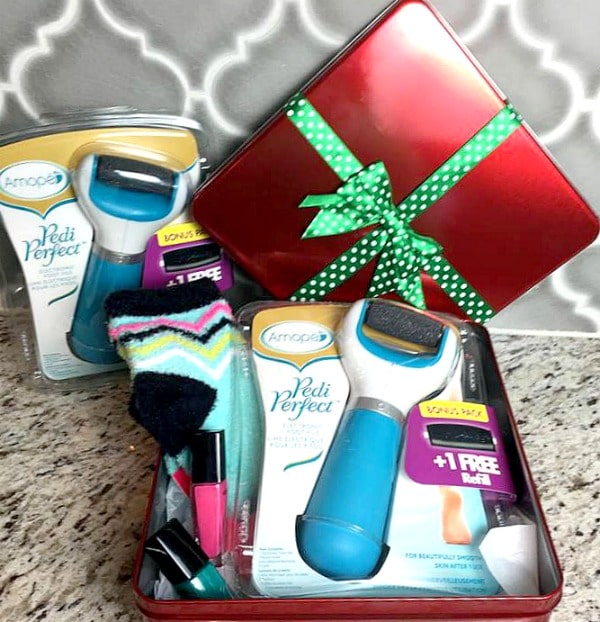 The holidays are upon us! You know what that means! It's time to start thinking about what you will be giving this holiday season. I really enjoy giving thoughtful gifts. Most often, if I don't know what to get someone, I get them something they can use to pamper themselves with because I feel everyone deserves a little pampering!
I know you all have seen the Amopé Pedi Perfect™ in stores and wondered if it really works, I have! Finally, curiosity got the best of me and I bought one, I'm so glad I did! They are amazing!! I won't lie, I think they're actually quite fun to use! I was so amazed when I first tried it, that I asked the hubby if I could use it on his feet, and WOW! What a huge difference it makes!
First I want to tell you how it works, then I'll give you a link to a coupon code so you can get your own, then I'm going to tell you how to put together the perfect pampering gift basket that any woman on your list will love! The Amopé Pedi Perfect™ is an electronic foot file that helps you have smoother feet by exfoliating your feet with the rotating action. I LOVE it! I'm a huge fan of pedicures but I'm not a fan of the price or finding the time to go in, and that's why I am so excited about this!
I love walking around barefoot or with flip flops. Unfortunately, since I rarely wear socks or tennis shoes, I have super rough feet which means regular maintenance on my feet. I thought I would give the Amopé Pedi Perfect™ a try and I'm so glad I did! It's super easy to use! Simply remove it from the packaging, then unscrew the cap. You'll remove the plastic ring as well as the orange plastic from the battery compartment. Once you have screwed the cap back on, just turn the silver band to the right to turn on. Once you have turned it on, roll it across your clean, dry skin on your feet (for no more than 3-4 seconds at a time), and work your way around your foot. It quickly, easily, and painlessly removes rough skin from your feet and leaves them feeling silky soft!!
This is a perfect stocking stuffer, Christmas gift, or even just a little treat for yourself so you can have soft feet all the time too!! If you're going to purchase this, I recommend that you purchase it at Walmart because they have an exclusive package with a bonus file!! That's a money saver! Speaking of money savers, here's a $5 off Amopé Pedi Perfect™ coupon for you to help save on your purchase! You can find these in the foot care aisle of Walmart, and be sure to keep an eye out for the special displays of the Amopé Pedi Perfect™ packages!
I was so excited about the coupon that I ran out and grabbed one to put into a holiday gift basket for my mom! I know she loves having soft feet as much as I do and I felt it would be the perfect gift for her! I grabbed some aloe socks, a couple cute nail polish colors, and the Amopé Pedi Perfect™, then headed home to make her special gift basket! It was so easy to put together and I can't wait to see how excited she will be when she opens her gift! I think every woman on my shopping list this year will be getting one of these gift baskets! Shhhh!! Don't tell! 😉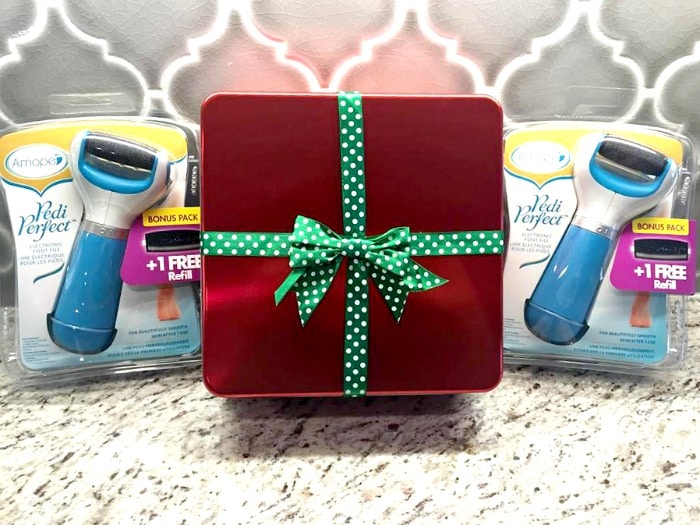 I know that you have seen the Amopé Pedi Perfect™ and you've wondered if they work. I really cannot say enough good things about it!! Now I don't have to wait until I can afford a pedicure, I can have soft feet in just minutes! Seriously, you'll have to try it to believe it! When you're out buying the items for your gift baskets, be sure to throw on into the cart for yourself! You're going to love it!!
This is a sponsored conversation written by me on behalf of Amopé™. The opinions and text are all mine.