This shop has been compensated by Collective Bias, Inc. and its advertiser. All opinions are mine alone. #CampaignHashtag#CollectiveBias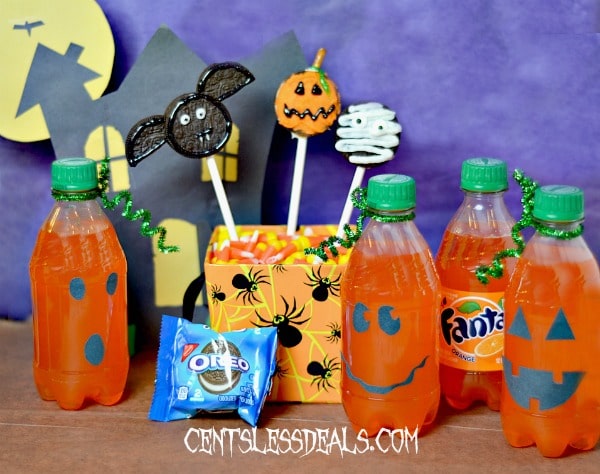 I was in Safeway last week just wandering the aisles and thinking of how fun it would be to create a little Halloween craft for my kids. You know how for Thanksgiving and especially Christmas we're always thinking up fun new activities for the kids, but it seems Halloween our focus is just trick or treating? I wanted to change that a little and find an easy but fun little project for our family. As I was wandering around I found the Spooky Snack Lab!! How cute is this?!
This really caught my eye! I found it over by the Halloween candy and accessories. I also found this adorable pumpkin headband for my daughter right next to it!
Who could even resist that face?! Anyway, I digress, the Spooky Snack Lab had the cutest display!! Really… look at this!!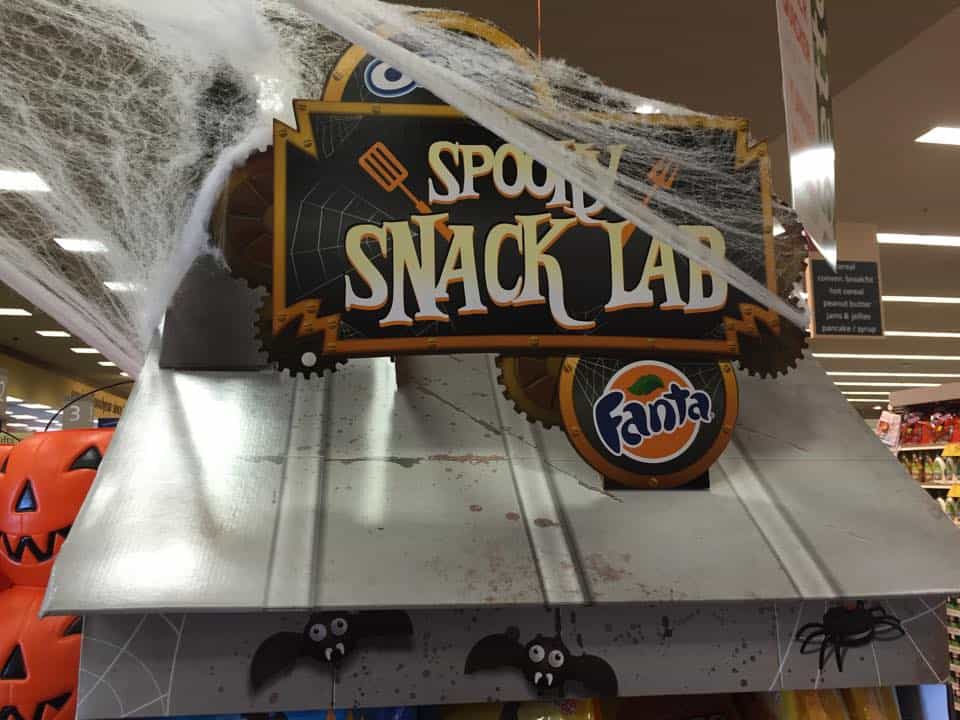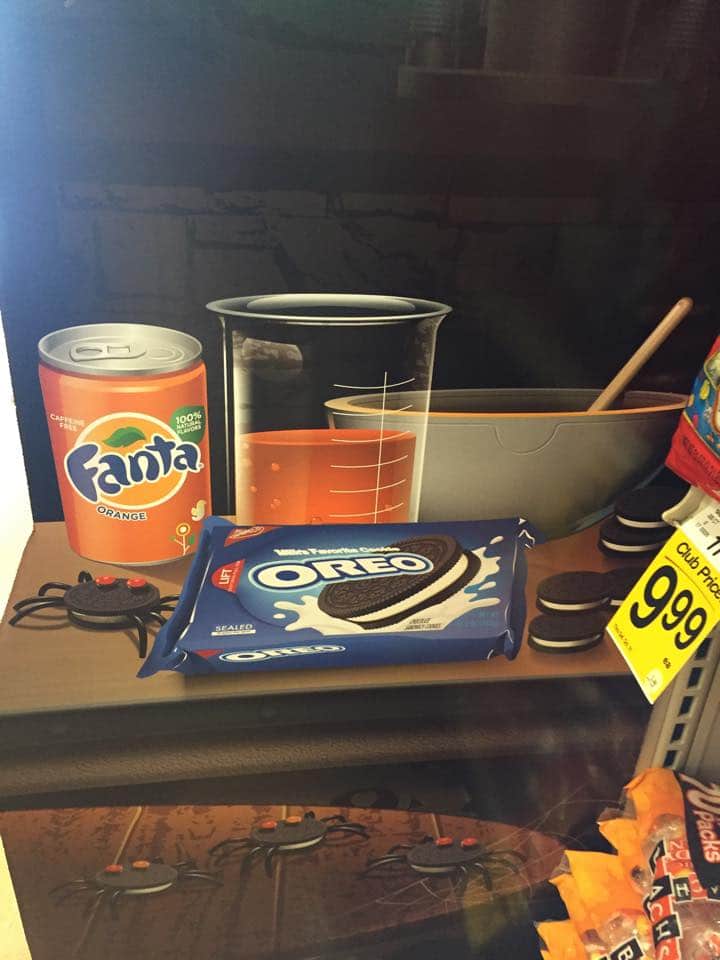 So adorable!! Now, see those cute little OREO® spiders right there? Those inspired me! I decided to treat my kids to some jack 'o lantern and monster pops fun!! What I did was grabbed some OREOS and some little bottles of Fanta because really, who doesn't love Fanta? Plus the black & orange combo was what I was going for. Who can have a little Halloween fun without incorporating black and orange?! The best part is that at your local Safeway or Albertsons, look on the Spooky Snack Lab to find a coupon for $1.50 off when you buy both 1 Fanta mini can or 12 oz bottles and a NABISCO cookie or cracker! So go on and save on your fun supplies while you can!
I grabbed a family sized package of OREOS for decorating, but then I also grabbed this fun box of packages of 2 OREOS! I thought I could probably exercise more self control if they were portioned out for me 😉
After that I grabbed these super adorable 12 oz bottles of Fanta because not only are they the perfect size for my kids, they are going to be our Jack 'o Lanterns!! Wait til you see the cuteness….it kills me!!
I also grabbed some edible googly eyes, they look like these: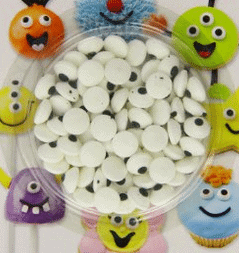 I also picked up some cake pop sticks and white, orange, black, and green frosting. You can choose any colors you like! Looking back, I wish I had gotten red as well to add some creepiness to them but I'm happy with what we did!
I gave each of my kids an OREO (when you put the stick inside the OREO, add a dab of frosting to kind of "glue" it all back together). The next step is the most fun! Time to start icing the OREOS and creating our monsters!!! I won't lie, my hubby made the BEST ones!! Look how adorable his are!!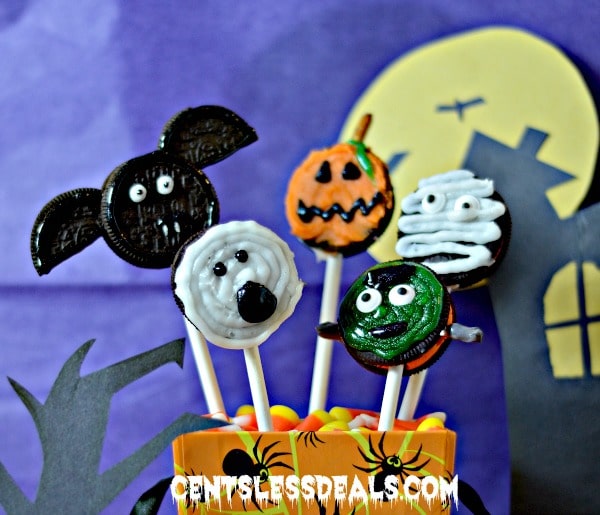 I let the kids all make their own! The mummy was the easiest one, you just layer your icing on the OREO and add googly eyes! So adorable right!? Here are some pics of what my kids came up with, or at least, what we had left after they were done enjoying their creations: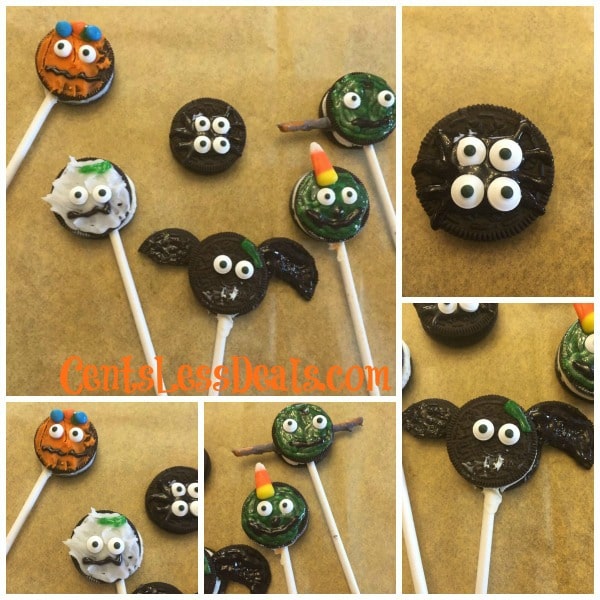 How cute are those?! My youngest made the bat with the bow on its head!! My oldest made the spider with the 4 eyes, isn't it neat?! You're not just limited to these, check out NABISCO's Pinterest page for more fun ideas!!
Now, on to the Fanta jack 'o lanterns!! They were super easy to make! You can make them one of two ways: you can draw the faces on with Sharpies, or you can cut the shapes out of construction paper and tape them on the bottles like we did.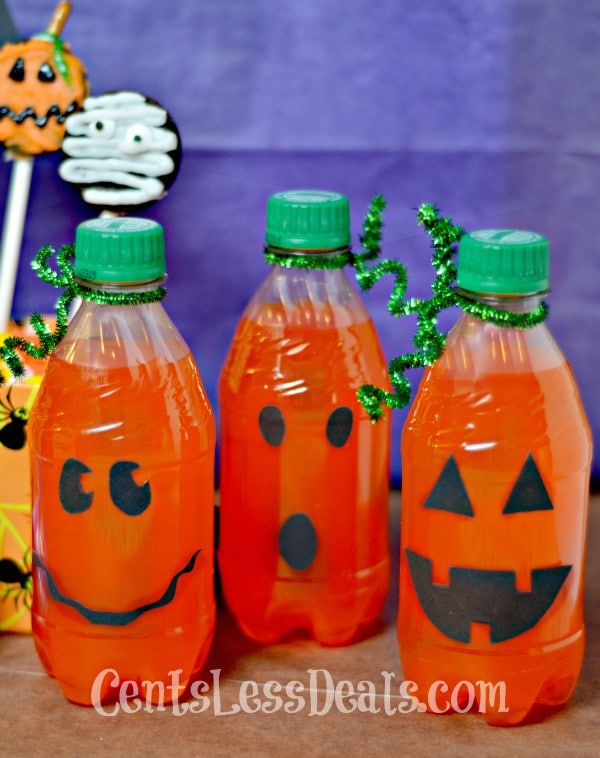 When you're done, just finish them off with a little piece of pipe cleaners, curled ribbon, or halloween ribbon of your choice!! Aren't they so cute?!
Here's what everything looks like together: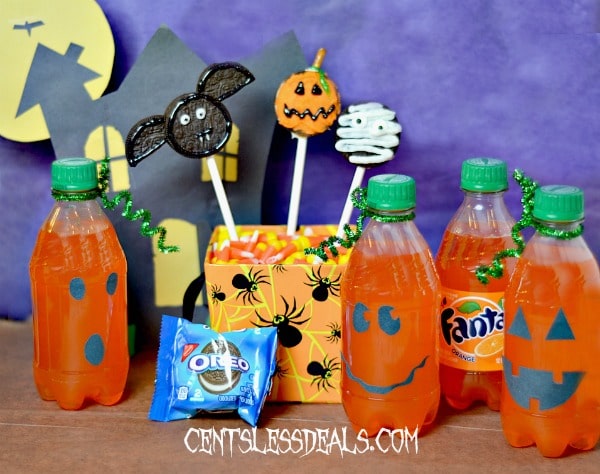 This is a really fun idea for a kids' Halloween party!! Every child can leave with a couple monster pops, a Fanta jack 'o lantern, and a snack sized package of OREOS!
Here is a breakdown of how I made the monster pops.
items needed:
OREO cookies
edible googly eyes
colored frosting such as white, green, black, orange, and red
cake pop sticks
directions:
If you are using the cake pop sticks you'll need to open the OREOS and press the stick into the filling, then dab on a bit of frosting to "glue" it and press cookie back together.
Spread frosting on the OREOS in any design you would like.
I recommend laying them on wax paper and letting them lay flat for the frosting to seal up, but if you're like my family, you won't have the patience to wait!!
If you would like to know how to make the Fanta jack o lanterns here are the instructions.
what you'll need:
12 oz orange Fanta bottles
black construction paper
double sided tape
scissors
Green pipe cleaners or ribbon
how to make them:
Take the Fanta bottles and cut the labels in the back near where it is sealed and remove.
Cut shapes out of the construction paper for the mouth and eyes.
Put the double sided tape on the back of the construction paper and press onto the bottle wherever you would like the face to be.
Add curled pipe cleaners or ribbon to the top
They're quite simple to make and everyone loved them!! I hope that you do too!
You can find more Spooky Snack Labs ideas on NABISCO's Pinterest Page!! What is your favorite fun and easy Halloween idea for the kids?