This post brought to you by Hershey's®. All opinions are 100% mine.
Hershey's® has come out with an awesome new way to snack on your favorite snacks!! Now you can purchase the new Hershey's® minis!! They have YORK MINIS, KitKat® minis, Reese's® minis, and Rolo® minis. They're unwrapped which makes it super easy to snack on, and the bag is resealable so as soon as you're done you can close it up and put it away. That is, if there are any left once you start snacking 😉 The best part is, Hershey's® is now giving a $1 off coupon so you can stock up on your favorite minis right now!!
these York Hot Fudge Topped Brownie Sundaes recipe!!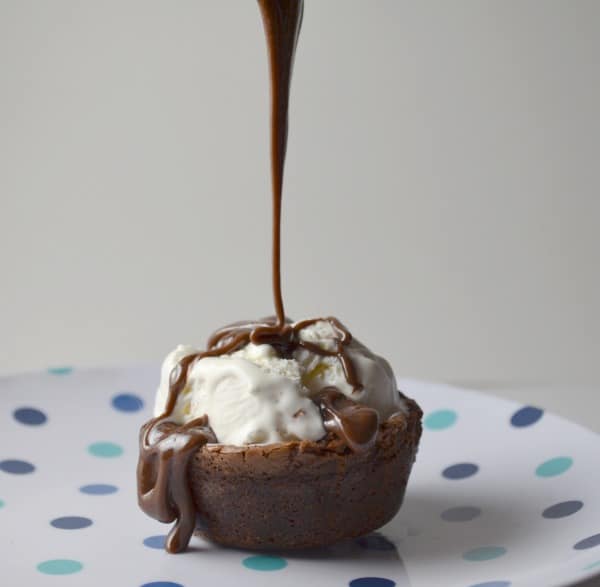 York Hot Fudge Topped Brownie Sundaes recipe
1 box of brownie mix batter (prepared per directions on the box)
1 (14 oz) can sweetened condensed milk
1 (8 oz) bag of YORK MINIS

vanilla ice cream

2 muffin tins
Directions:
Prepare brownie mix according to the instructions on the box.
Grease one of the muffin pans, make sure you grease it very well.
Fill each muffin tin halfway full of brownie batter.
Bake at 350 degrees for about 20-25 minutes or until toothpick comes out clean.
As soon as you remove the brownies from the oven, take the second muffin tin and press it on top of the muffin tin with the brownies in it.
Press down hard enough to make an indentation into the brownies to create "boats" for your ice cream and fudge sauce.
Remove the brownies from the pan and set aside to cool
While brownies are cooling, dump the bag of York minis and sweetened condensed milk into a small saucepan.
Heat over medium heat, stirring constantly until candies have melted.
Once the York minis are fully melted and sauce is blended, removed from heat.
Add a scoop of ice cream to the brownie boats.
Pour the York peppermint fudge sauce over the ice cream.
Serve immediately and enjoy!