S'mores Cookie Bars
This post may contain affiliate links. Please read my disclosure policy.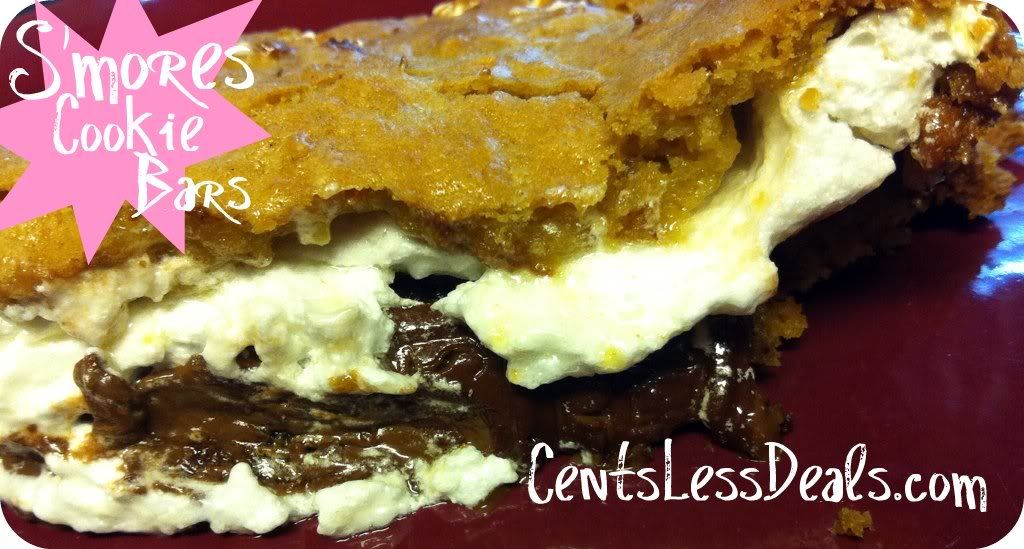 S' mores Cookie Bars
Ingredients:
1 cup butter
½ cup brown sugar
1 cup sugar
2 eggs
2 tsp vanilla
2 2/3 cup flour
1 ½ cup graham cracker crumbs
2 tsp baking powder
½ tsp salt
8 Hershey Bars (regular size)
7 ounce jar of Marshmallow crème

Preheat oven to 350 degrees.
Mix together butter and sugars.
Beat in eggs and vanilla.
Add all dry ingredients.
Press half of dough into bottom of greased 9 x 13 pan.
Place chocolate bars over dough
(you will need to leave in full candy bar  however you will need to break them into individual pieces to fill in spots at the ends of the pan).
Cover with layer of marshmallow crème.
Place remaining dough on top.
I was unable to smooth it with my spoon I actually places spoonfools of the dough and spread with my hands.
Bake for 30-35 minutes.
Cool completely before cutting.