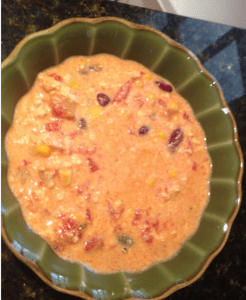 My friend Erin shared this recipe with me and I am eternally grateful for that!! (hi Erin!)
Mexican Cheese Soup
Ingredients:
1 lb Velveeta
1 lb ground meat (I use ground turkey or chicken but sausage or hamburger would be great too!)
1 can whole kernel corn
1 can kidney beans
1 can ro-tel
1 can petite diced tomatoes
1 package taco seasoning
Directions:
Brown meat, drain and put into crock pot
Cut Velveeta into cubes and put into crock pot
Dump rest of ingredients into crock pot (liquid and all) and stir
Cook on low for 2-3 hours
If you want to add a little spice you can use the hot ro-tel, the spicy taco seasoning or dice up a few jalapenos and drop them in 😉
This soup is amazing!! You MUST try it!! I promise, you'll love it!