Chips and Dip Au Gratin recipe
This post may contain affiliate links. Please read my disclosure policy.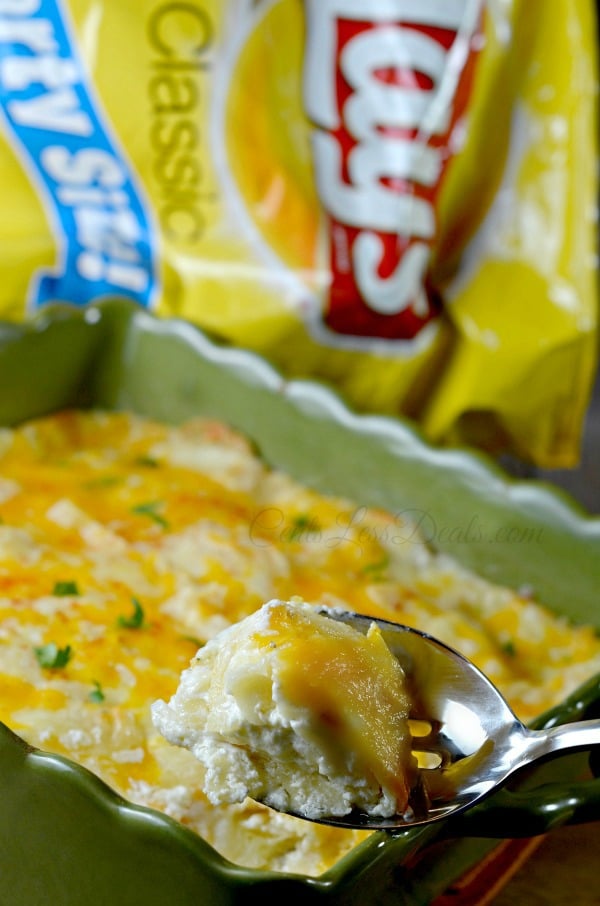 Like this recipe? "Pin it" to save it by clicking the photo above!! 
Be sure to follow CentsLessDeals on Pinterest and check out our other great recipes while you're here!
I have to start this by saying, I know you're probably wondering why on earth anyone would even think to throw some potato chips and dip into a dish and add cheese….you're not are you? Because what is better than chips, dip, cheese, cream, and butter? Now, I won't even pretend this is good for your waist, please don't even ask me for the nutritional information on this, don't you think ignorance is bliss? I couldn't even enjoy this if I knew how long it was going to stay on my hips afterwards….that being said, this recipe is AMAZING!! Seriously!! It's the BEST potatoes au gratin I have ever eaten!!
Now….down to business!!
INGREDIENTS: 
1 bag of regular potato chips (I suggest you spring for the family sized bag so you can eat a few while you work, you know, just for quality assurance)
2 cups of heavy whipping cream
1 cup of refrigerated french onion dip – found in the fridge section of the store near the sour cream(trust me on this…it's delish!)
1 cup sour cream
1 stick of butter, melted
1 cup of monterey jack cheese, shredded
1 cup of medium cheddar cheese, shredded
DIRECTIONS:
In a large mixing bowl, blend together cream, sour cream, french onion dip, and the melted butter.
Once mixed, slowly stir in potato chips. Now, it doesn't matter if you break them a bit, it's going to happen, just be gentle
Take half of potato chip mixture and place into a greased 8×8 or 9×9 baking dish. If you don't have one, or are just in the mood for a new one, check out this set of baking dishes, they're gorgeous!!
After putting your first layer of potato chip mixture into the dish, top with 1 cup of shredded monterey jack cheese
Top with remaining potato chip mixture
Top all that fatty goodness with the remaining 1 cup of shredded cheddar cheese
Bake at 350 degrees for about 35 minutes or until browned and slightly bubbly
Enjoy!!!