I was recently asked by The J.M Smucker Company to create some unique tips for using a their product and I wanted to share with you how I love to use it!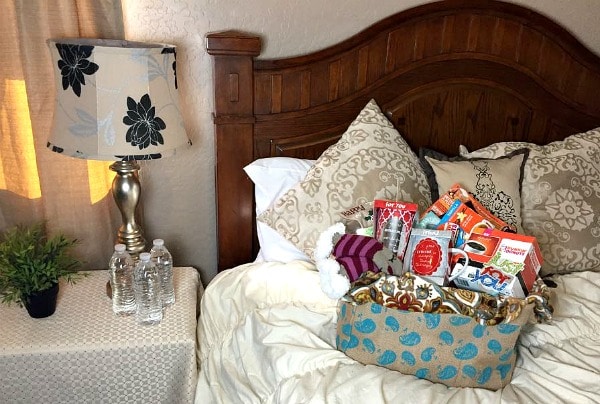 I love the holidays! Thanksgiving and Christmas are my favorite times of the year! What I love most about it is that it means my family and friends will be flying in and we get to enjoy being together! This year my very best friend is flying all the way from Illinois to be with me! I don't know about you, but when I have guests I love to put together a little something to help them feel at home. Putting together a gift basket is the perfect way to help your guests feel at home!
My friend Tonya and I both really enjoy just sitting together and having coffee. Every chance I get, I try and buy her a special coffee mug and treat her to her favorite coffee, Dunkin Donuts®! We have made so many wonderful memories together over a cup of coffee!! It's our time to catch up and discuss what is going on in our lives. We don't need a lot of money or extravagant things, just give us some coffee in a cute mug and some time to just relax and we will have the time of our lives! Do you have a friend like that too? It's the best thing in the world!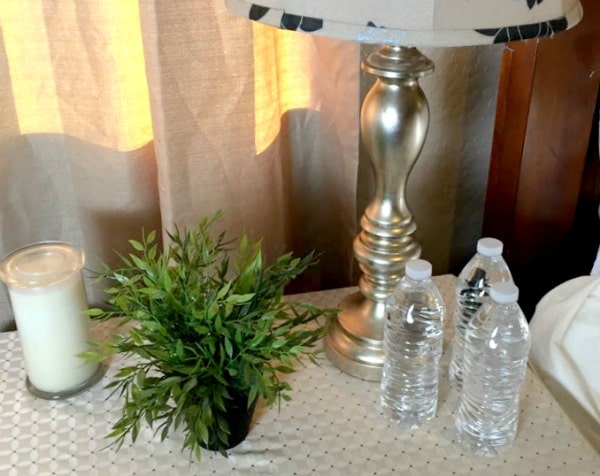 To prepare for my friend's visit I started cleaning up the guest room and looking around to find things that would make her feel the most comfortable while she is here. I made sure to put a pretty plant on the nightstand (I'll be switching it out for fresh flowers right before it's time to pick her up from the airport!), a few bottles of water, and I made sure to have a good lamp on the side table for her to easily access for light. Now it's time for the gift basket!!
When putting together a gift basket for someone, I love to start with a small list of their favorite things, you know that means! First on the list is Dunkin Donuts® coffee and creamer! When guests are in my home, I like to give them their own mug and some k-cups so they can help themselves to coffee in the morning, just in case they wake up before I do. This way they don't have to wait for their morning coffee or have to rummage through my unorganized cabinets looking for coffee!!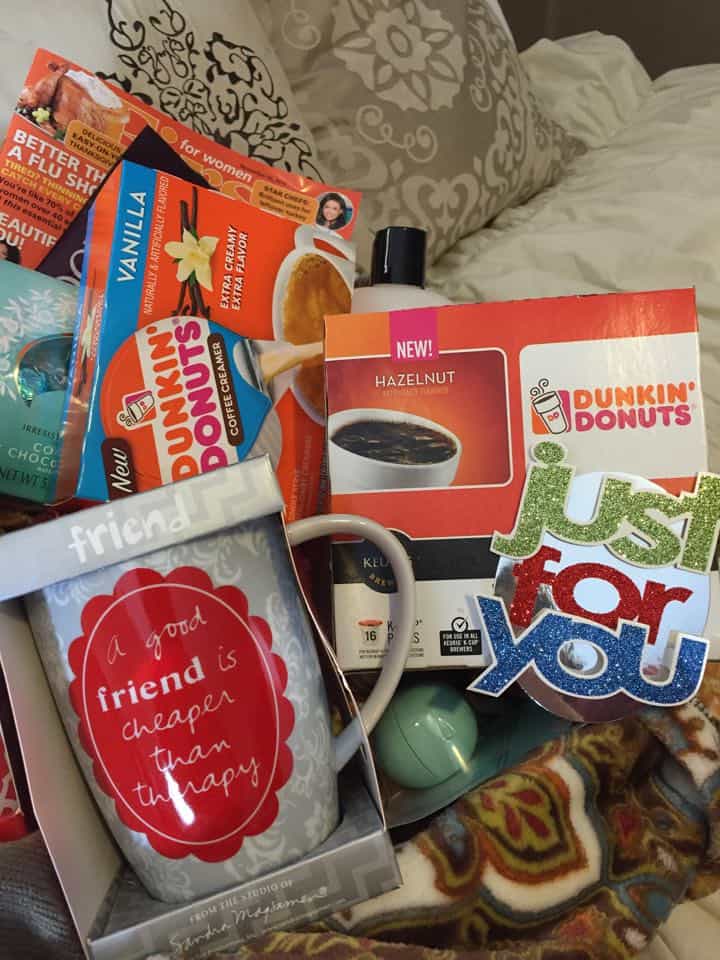 I gathered together a throw blanket (in case the room gets a bit chilly), some toiletries, a pretty basket, and then I made a quick list of her favorite items and headed out to Walmart! When I was there I purchased a soft pair of slipper socks, some lip balm, tissues, ibuprofin, an eye mask, and some chocolates (every girl needs a bit of chocolate, am I right?). After that was taken care of I headed over to the coffee aisle to grab some of her favorite Dunkin Donuts® coffee and creamer. On my way there I found the cutest little kitchen towel with an owl on it that would be perfect for my friend's kitchen so into the cart that went too!!
The hardest part of the whole process was trying to pick a flavor of coffee!! Have you seen the new holiday flavors?! All of flavors just sounded so enticing and it was very difficult to keep myself from grabbing one of each flavor! I did remember however, that her favorite Dunkin Donuts® flavor of coffee was Hazelnut so I grabbed her some of those k-cups and also her favorite Dunkin Donuts® vanilla creamer and headed home to put together her wonderful basket! (you can browse all the amazing Dunkin Donuts® flavors here) If you're heading out to grab some coffee, be sure to take advantage of this $1 Dunkin Donuts® rebate from ibotta!
I won't lie, I did make a second trip back to the store for the white chocolate peppermint coffee, I couldn't leave that on the shelf! I NEEDED it!!
Here is a picture of the final product: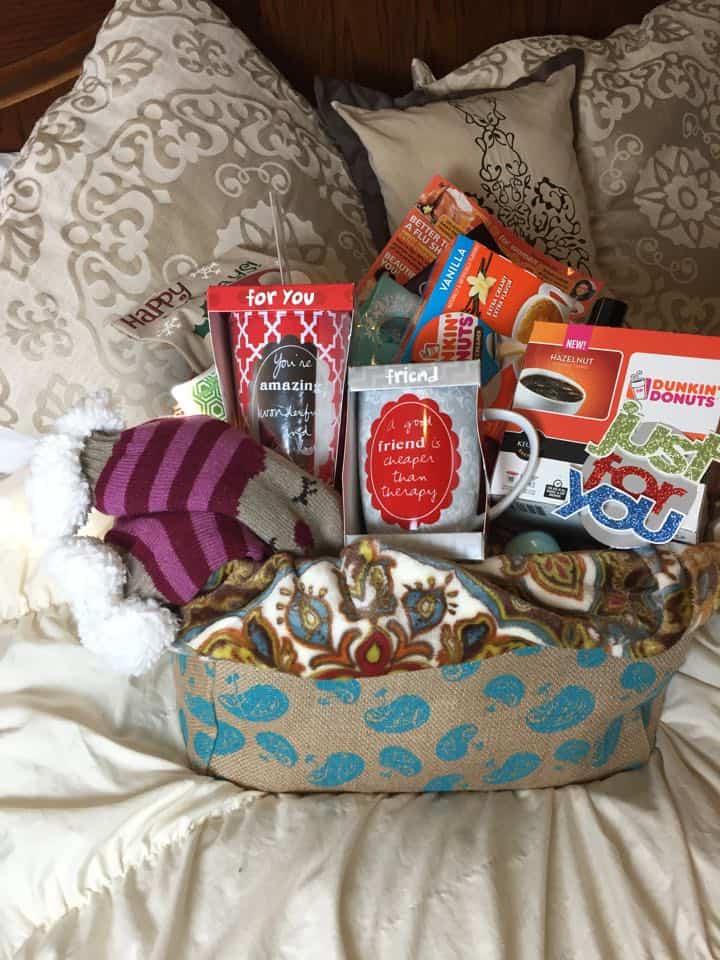 I started by putting my softest throw blanket into the basket and then added toiletries. I added a magazine, I figured in case she wanted to do some late night reading or perhaps as a fun little read for the plane ride home. I also added lip balm, tissues, an eye mask, a little kitchen towel I thought she would love as a fun little gift, slipper socks, a bag of chocolate truffles, a tumbler for her water, a fun little coffee mug, and then of course her favorite coffee and creamer! I also intend to put a picture of us into a frame and put that on the nightstand so she will feel a little more at home. Personal touches make all the difference!
When you have guests coming in from out of town, remember take into consideration a few things when preparing the guest room: what is the climate at your home versus theirs (is it warmer, colder?) in case you need to grab a fan or perhaps add a blanket, the basic toiletries they will need, water in case they might get thirsty the middle of the night, clean handtowels and a washcloth, perhaps even some little treats in case they feel a little snacky! I always love to add a personal touch by adding in a few of their favorite things and a cute little gift if I can. Adding flowers or greenery to the room is also a really beautiful touch!
I am so looking forward to sitting down with my friend and catching up over a few good cups of coffee! It's going to be one of the highlights of my holiday season this year!! Oh the good times we are about to have!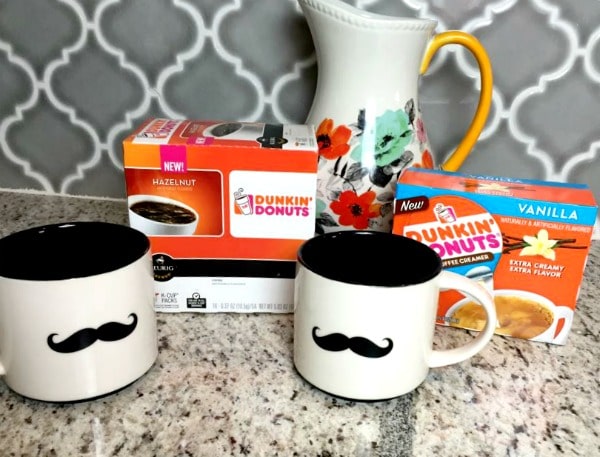 Now I moustache you a question (get it?), who are you most looking forward to sharing a cup of coffee with this holiday season? What are your favorite ways to help your guests feel at home
This is a sponsored conversation written by me on behalf of Dunkin' Donuts® . The opinions and text are all mine.