Nutella Stuffed Monkey Bread recipe
This post may contain affiliate links. Please read my disclosure policy.
This is an awesome new twist on an old favorite. Each ball of fluffy dough is filled with a creamy liquid chocolate-hazelnut filling, while the outside is sticky with a deliciously sweet chocolate caramel. Quick and easy, this is a terrific dessert or brunch treat, and is terrific served with a dollop of whipped cream or scoop of vanilla ice cream!  Plus, it has Nutella, who could ask for anything more?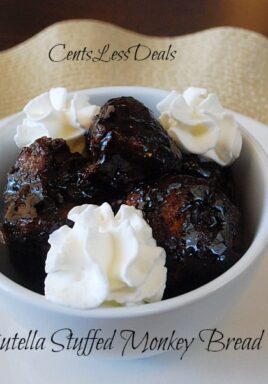 Nutella Stuffed Monkey Bread recipe
Ingredients
4

small cans of refridgerated buttermilk biscuits

not flaky or layers variety

1

cup

white sugar

1/2

cup

salted butter

2

tbsp

unsweetened cocoa powder

1/4

cup

Nutella
Instructions
Lightly grease an 8x8 glass baking dish.

Open the biscuits and cut each biscuit in half.

In a bowl, mix the cocoa powder and sugar.

Flatten each biscuit half into a circle about 2 inches across.

Take a very small amount of Nutella, about the size of 3 kernels of corn, and place it in the middle of the flattened biscuit. Bring up the sides of the biscuit around the Nutella and pinch them together, forming a little ball.

Place the ball, seam side down, in the baking dish, starting at a corner. Repeat with all of the biscuit halves, forming 2 layers of Nutella-filled biscuit balls. Try not to squish them together but also try not to leave many gaps.

Melt the butter in the microwave, then pour it into the bowl with whatever cocoa powder and sugar is left after all of the biscuit balls have been coated. Mix really well.

Pour the butter/cocoa powder/sugar mix over the Nutella-filled biscuits, trying to make it relatively even.

Bake at 350 degrees for about 20 minutes to half an hour. It's a good idea to set the dish on a baking sheet with sides, just in case any of the chocolate caramel overflows the pan during baking. After 20 minutes, lift up one of the balls in the middle of the dish to see if the bottom layer is fully cooked. If not, leave it in for another 10 minutes or so.

When the biscuits are done, remove from the oven and let it cool for about 5 minutes, but don't let it sit for more than 15, since the caramel will begin to harden and your monkey bread will stick to the pan.

You can serve it straight from the baking dish, or you can get fancy and carefully place a plate over the top of the pan (use oven mitts for this!), then quickly but CAREFULLY flip the plate and baking dish over, so that the monkey bread is on the plate with the baking dish on top. Slowly ease the baking dish off, and you should have a steaming hot mountain of delicious chocolate monkey bread glistening with sweet chocolate caramel sauce.