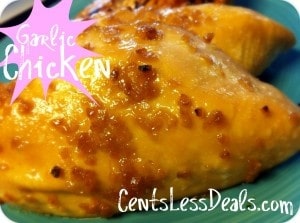 Garlic Chicken Breast recipe
Ingredients:

4 Bonless Skinless Chicken Breast
4 Tbsp Minced Garlic
4 Tbsp Brown Sugar
3 Tsp Olive Oil

How to Whip This Up:

Lightly grease a casserole dish
Preheat oven to 400 degrees
In small sauce pan, saute the garlic in the oil
Remove from heat and stir in brown sugar
Place the chicken breasts in your greased baking dish and cover with the garlic and brown sugar mixture
Bake uncovered for 15-30 minutes.

This is sure to please even your pickiest of eaters!!