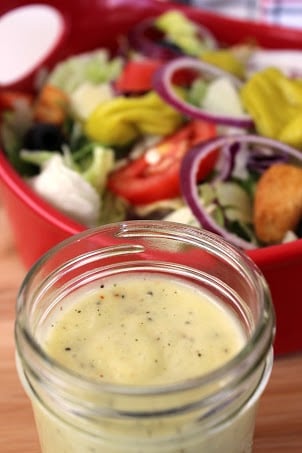 Olive Garden Salad Dressing recipe
Like this recipe? "Pin it" to save it by clicking the photo above!! 
Be sure to follow CentsLessDeals on Pinterest and check out our other great recipes while you're here! 
I love copycat recipes, but Olive Garden copycat recipes are my favorite!! This one is definitely at the top of my list!! I looked everywhere for an Olive Garden salad dressing recipe that tasted just like it, and I'm so happy to say I finally found it! I really only go to Olive Garden for three things: Zuppa Toscana soup, their salad, and alfredo. I'm happy to say I've mastered all 3 recipes  so now I can save money and make them all at home!!
You're going to love this recipe! Sure, you can buy the dressing at the restaurant to take home, but why not save some money and make it yourself?
Item's you'll need for this recipe
* Parmesan Cheese * Good Seasons Italian Dressing Packets * Italian Seasoning * 
INGREDIENTS: 
1/3 cup White Vinegar
1/2 cup Vegetable Oil
1/4 cup Olive Oil
1 tsp Mayonnaise
1/2 tsp Garlic Powder
1/2 tsp Sugar
1/4 tsp Pepper
1/2 tsp Salt
1/2 tsp Italian Seasoning
1 packet Good Seasons Italian Salad Dressing
1 tsp grated Parmesan
1/8 tsp Lemon Juice
1/4 tsp Xanthan Gum (optional)
4 tbsp Water
DIRECTIONS: 
Combine ingredients and blend until well mixed.
Chill until ready to serve.
See how easy that was?! Now go enjoy yourself some salad 😉
Other recipes you might like
* Copycat Olive Garden Alfredo sauce * Zuppa Toscana Soup * Bacon Chicken Alfredo Roll-ups *